Mike 'The Situation' Sorrentino Responds To Being Village Voice's 'Queer Issue' Coverboy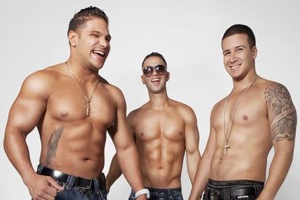 The news that Jersey Shore's breakout male stars graced the cover of yet another publication, shirtless and tan, is no news, but when Mike "The Situation" Sorrentino and company saw themselves smiling from the covers this morning, they were the Village Voice's "Queer Issue" cover boys. Surprise? Well, Sorrentino has officially responded to the speculation that he was unaware of his status in the gay community– and he's totally ok with the chatter.
Sorrentino, who previously has made several favorable comments about what is becoming an increasingly large following of both him and the show in the gay community, responded in as predictable a fashion as possible: as long as he looks good, he doesn't care who is ogling him in the newstands! The full statement, which he released via Facebook:
"As for the Village Voice SitUAtioN – it's not for me to judge somebody's sexual preference and in my opinion the SitUaTIoN looks good as hell and that is my main concern. It just so happens that The SitUaTiON has mass appeal and happily reaches a very broad audience – This is not my first cover and definitely not my last – SitUATIon NATION"
On the one hand, it is a completely narcissistic take on a news item that was about a lot more than just his abs. On the other hand, it's nice to see a popular youth figure spreading a message of tolerance, especially as the NYC Pride celebration weekend nears. Could this be the evolution of "The Situation" from frivolous reality TV character to… role model?
(Image via Village Voice)
Have a tip we should know? tips@mediaite.com