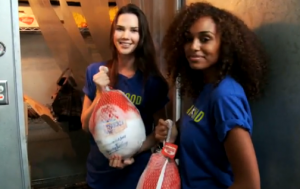 Yesterday we brought you Vogue Italia's "MeiselPic," or what we called "What Your Facebook Friends Might Look Like If They Were Super-Hot Models." Today we bring you equally compelling images: That of Ford models Chrissy Haldis and Gelila Bekekle delivering holiday meals to families in need this holiday season for Robin Hood's "Food For Good" campaign.
I've written about the campaign in this space before (see here and here and here) — I am part of the committee helping to fundraise and publicize Food For Good and the "iFed" hub online — but it continues to be a worthy cause. As Chrissy says in the video, 1 in 6 families rely on emergency food in New York. That is a pretty staggering number.
Robin Hood's goal: Full holiday meals for 120,000 New Yorkers. Fed so far: 109,344. That is amazing — and means the goal is truly within reach as we head into the home stretch of the holiday season. So please consider making a donation here. You should also follow the Ford Models on Twitter, which I have done for long before I got involved in Robin Hood. They are actually not too sexy for your retweets (and that is how I found out about their "Supermodel of the World" coverage. Since I lured you in here with that headline, after all). In any case, it's a worthy cause and Chrissy, Gelila and the Ford Models crew are rock stars for so supportive of it. Video below.


Robin Hood's "Food For Good" campaign was also featured on NBC Nightly News' "Making a Difference" segment last Friday night. For more information (and to donate!) please visit the iFed page here.
Have a tip we should know? tips@mediaite.com