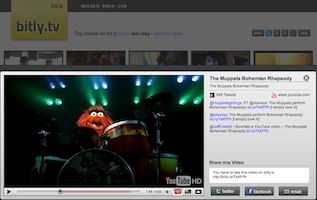 A worthwhile question that web developers are asking lately: what exactly can you do with URL shorteners, beyond just shortening URLs? Past innovations focused on statistical tracking (cli.gs) and memorable addresses (doiop). But the shortened URL has since emerged as a gauge of the viral pulse of the web — how to take advantage of that?
The folks at bit.ly, which is currently the dominant URL shortener thanks to its affiliation with Twitter, have come up with what may be the best way yet to do just that: bitly.tv, a video site that tracks the popularity of videos shared on bit.ly in real time.
CNET News breaks it down:
The site looks really slick and is well presented. When you click on a video, a light box pops out, which plays the video as well as displays a variety of sharing options (Facebook, Twitter, e-mail) and shows a live stream of tweets about that piece of content. The live stream is especially compelling since you can see what other people are saying about the video as you formulate your own opinion.
Over the past two days, the Muppets Bohemian Rhapsody, the trailer for the new Robin Hood movie, and Funny or Die's "I am Tiger Woods" spoof are among the most popular videos.
Here's the Robin Hood trailer, just because:
Bitly.tv will no doubt put pressure on Facebook and Google, which are launching their own URL shortening services (fb.me and goo.gl), to find innovative uses for them — but from a consumer perspective, that's a good thing.
The next wave of URL shorteners is still in its infancy, and missteps are inevitable alongside the good ideas. Recently, the GOP attempted to spice things up by creating gop.am, the "first branded URL shortener," but that didn't go too well: it turns out that letting people wrap GOP banners around crude YouTube videos and bondage sites is not the most effective branding.
Related: bitly.tv homepage
The Muppets do "Bohemian Rhapsody" (Mediaite)
Have a tip we should know? tips@mediaite.com