Mubarak Names His First Vice President As Reports Surface Of Family Flight To UK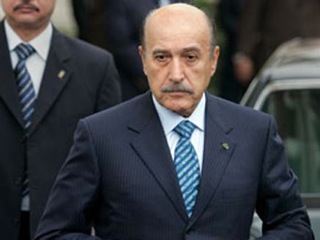 The possibility that Egyptian president Hosni Mubarak will be able to keep to his word yesterday of overhauling the nation's entire government without giving up power is starting to look increasingly tenuous. While he has begun to appoint new officials to replace the entire government he fired yesterday– even appointing the longtime non-existent position of vice president– his sons have landed in London.
Intelligence chief Omar Suleiman has become the nation's first vice president in 30 years, since Mubarak acquired the title, and many expect that he may be the next in line to succeed Mubarak. Al Jazeera's profile of him as intelligence chief notes that suspicions of his ascent have been around for some time due to his proximity to Mubarak: "Suleiman's position as head of the Arab world's most significant intelligence agency and his closeness to Hosni Mubarak, the Egyptian president, gave rise to speculation that he could contend with Gamal Mubarak, the president's son, for the position of Egypt's next ruler."
Speaking of the president's sons, various reports have surfaced that Gamal and Alaa Mubarak have arrived in London, the largest news services reporting this news being the BBC and Fox News. Al Jazeera is reporting that Mubarak's wife, Suzanne, has also left the continent, while Neil Cavuto is currently reporting on the air that the entire family "and his dog, his pets, his fish" has fled Egypt, though the protests continue and Mubarak continues to hold power (video of Cavuto's report forthcoming).
Meanwhile, Al Jazeera's front page is reporting that Mubarak has also announced the appointment of a new prime minister, Ahmad Shafiq, former chief of air staff. Shafiq would be responsible for appointing a cabinet after the nation's entire former cabinet resigned. Meanwhile, protests continue on the ground, defying the nation's curfew and denying any satisfaction with the new appointments until Mubarak himself is out of power.
Have a tip we should know? tips@mediaite.com