NBC's Andrea Mitchell: Sarah Sanders Deserves an Apology, Was 'Grossly Insulted' at WHCD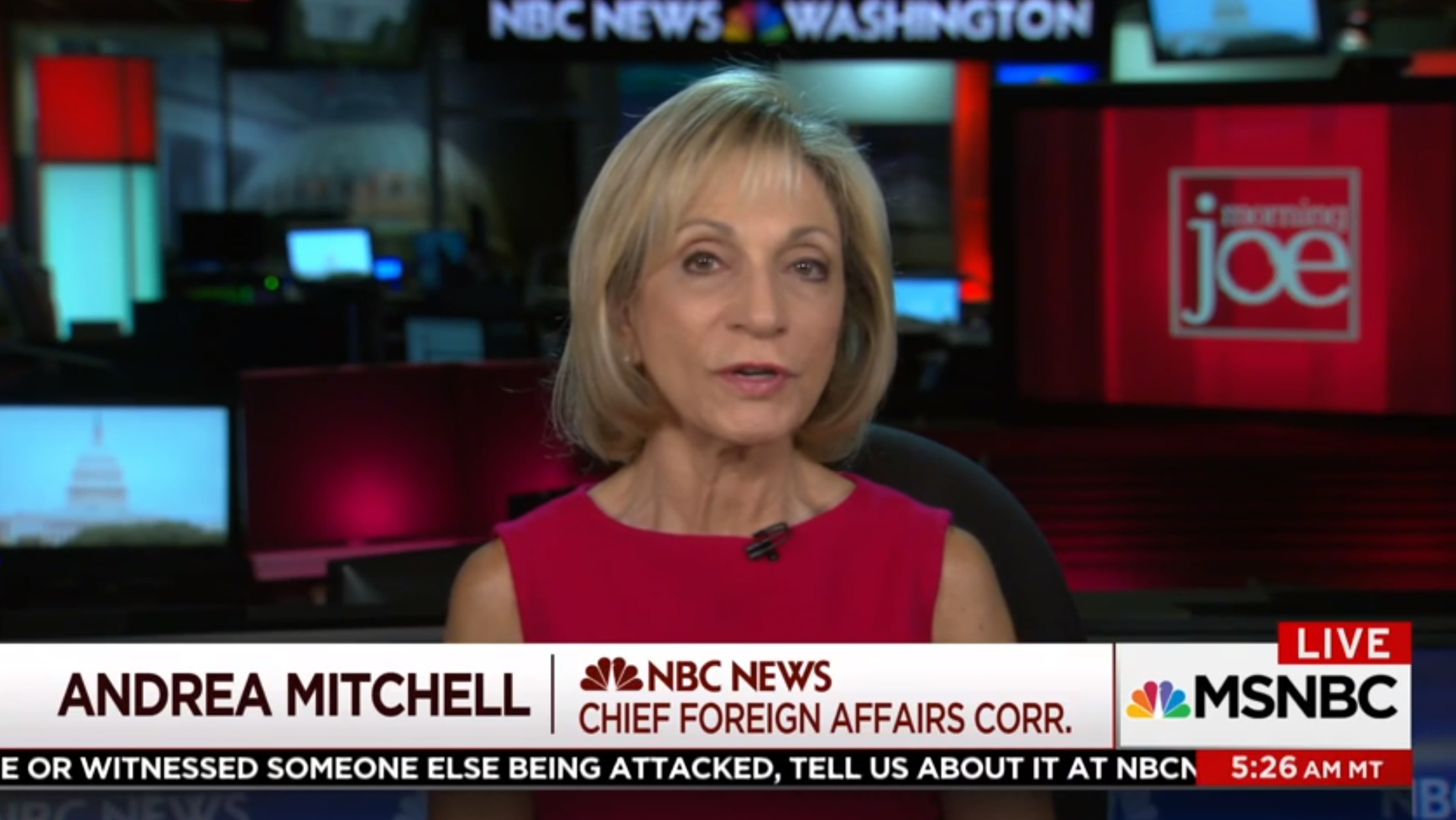 NBC's Andrea Mitchell is taking some heat for her tweet demanding an apology be given to Press Secretary Sarah Sanders by the White House Correspondents' Association for comedian Michelle Wolf's jokes.
Apology is owed to @PressSec and others grossly insulted ny Michelle Wolf at White House Correspondents Assoc dinner which started with uplifting heartfelt speech by @margarettalev – comedian was worst since Imus insulted Clinton's

— Andrea Mitchell (@mitchellreports) April 29, 2018
While Mitchell isn't the first person to push for an apology following Wolf's routine, which included mocking remarks about Sanders' physical appearance and the sound of her name, not everyone agrees a mea culpa is warranted:
Nope. No apology. Our house is on FIRE

— Jane Lynch (@janemarielynch) April 29, 2018
after everything this administration has said and done to the American people with no apology? are you fucking kidding me???? this has to be a joke.

— christine teigen (@chrissyteigen) April 29, 2018
In the last 48 hours, icons from the #Resistance network MSNBC have A) defended a fmr anchor facing harassment allegations B) defended a current anchor who published homophobic screeds & then offered a dubious hacking story, and C) attacked a comedian who criticized Trump folk https://t.co/nWGBOnTaUK

— David Sirota (@davidsirota) April 29, 2018
Don't hire a comedian. Don't have a roast. Don't pretend to be shocked at what was billed as a roast hosted by a comedian in a room full of adults who paid to be there. Don't pretend that SHS's looks were targeted when it was her lies. https://t.co/7xOHzX2lQR

— Miles Kahn (@mileskahn) April 29, 2018
But jokes from presidents about drone murdering civilians and wars based on WMD lies are perfectly fine. You are parodies of yourselves. https://t.co/PqyO7yLubD

— jeremy scahill (@jeremyscahill) April 29, 2018
K) Andrea, it was nice to meet you last night and I respect your work as a journalist, but when's the last time you demanded Trump or WH staffers apologize for their horrific statements? When's the last time you demanded Trump apologize for being a birther?https://t.co/tn9HkDOOq9

— Kathy Griffin (@kathygriffin) April 29, 2018
Despite backlash to Mitchell's call for an apology, several other members of the left-leaning media have echoed criticisms of Saturday night's speech, including The New York Times' Maggie Haberman, MSNBC's Mika Brzezinski and ABC's Jonathan Karl.
[Image via screengrab]
Follow Amy Russo on Twitter: @amymrusso
Have a tip we should know? tips@mediaite.com