Neighborhood Watch Movie Faces Marketing Conundrum In Light Of Trayvon Martin Shooting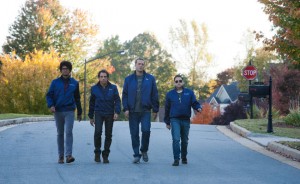 In the aftermath of the Trayvon Martin case, the upcoming movie, Neighborhood Watch, doesn't have the best timing. As a result, 20th Century Fox has been gradually pulling back promotion for the Ben Stiller movie — which has a plot entirely unrelated to the Florida shooting.
According to the New York Times, "in a phased withdrawal that began late last month, Fox pre-emptively withdrew its trailers and advertising materials for the movie." The movie, slated for a July 27 release, is about four suburban neighborhood watch men who find themselves facing an alien invasion. After canceling the trailer, the studio released a statement saying, "Our film is a broad alien invasion comedy and bears absolutely no relation to the tragic events in Florida."
From the NYT:
That "Neighborhood Watch" should be tainted by even a whiff of the vigilantism at issue in the Martin shooting is attributable not just to the film's name, but also to an unfortunate decision by Fox to release a brief initial teaser trailer that portrayed its stars as a band of dark-clad heavies cruising their suburban turf to a hip-hop theme. Mr. Hill points his fingers as if firing a gun. Yet the trailer, according to a person who was briefed on its background but spoke on condition of anonymity because of studio policy, relies heavily on scenes that were not actually in the film. These were shot separately by the director, Akiva Schaffer, who has been a writer and director for "Saturday Night Live," as a gag that stepped up the mock tough-guy image of the stars without giving away the movie's real point — the aliens.
Nonetheless, the Times notes that Fox is "quickly replacing images." For example:
The image of a bullet-riddled Neighborhood Watch sign — on which the caped figure of Boris the Burglar, a familiar trademark of the National Sheriffs' Association, has almost imperceptibly turned into a lurking alien — has been pulled back where possible. On the film's Facebook page, meanwhile, Fox is now featuring photographs of the four stars in a frontal shot that seems deliberately calculated to invoke the harmless lead characters in "Ghostbusters," to which Fox marketers have been likening their film.
So, what now? Fox faces a decision: rework the marketing to reflect the absurdity of the movie, or pull back until the media firestorm over the Martin case simmers down.
(H/T NYT)
Have a tip we should know? tips@mediaite.com