New Herman Cain 'Women For Cain' Site Headlined By Stock Photo Of Female Fans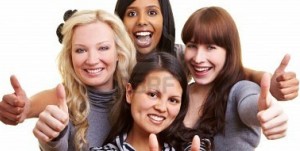 The embattled Herman Cain presidential campaign has launched a "Women For Cain" website, chaired by Gloria Cain, that is drawing attention for its conspicuous timing, and for attacks on Cain's accusers that are being posted there. What's also fascinating, though, is the campaign's decision to go with a stock photo of "Four happy young women holding their thumbs up," rather than using a photo of actual women supporters of Cain in the site's banner.
While the site's intro doesn't mention it, Women For Cain is obviously a response to this week's bombshell accusation by Ginger White, accompanied by phone records and a horribly unhelpful statement by Cain attorney Lin Wood, that the candidate engaged in a 13 year affair with her. Cain has denied the allegation, but has admitted to some things that are hard to explain.
TPM notes that the Cain supporters who are posting on the site have not been shy about discussing the allegations against Herman Cain, and leveling "brutal attacks" on his accusers:
The real prize, however, is a section — which appears to be curated by the campaign — featuring female supporters' personal testimonials, many of which are brutal attacks against the women who have accused Cain of sexual harassment, sexual assault, and
infidelity.

"Dear Mrs. Cain Don't pay attention to these pathetic husbandless women who are jealous of women like you in happy long-term marriages," a supporter from California writes. "These vindictive women can't find a husband or keep one. They are like stalkers who try to latch on to any man who shows a bit of kindness or attention to them. When these unstable women come out of the woodwork to make accusations about Herman just say, 'Honey, get a life, I believe my husband.' We want you to be our First Lady Mrs. Cain!"

Another post, by a support in Georgia, laments how "now because of scheming women that can be swayed by money, attention or whatever else the reason may be, your reputation is at stake – not theirs as it should be. I do not believe these women are victims…I believe you are."
TPM surmises that the site is "curated" by the Cain campaign, but there's really know way to know what, if any, moderation is being done on the site. The "testimonials" do bring into stark relief the culture war that's still being waged on the working, independent women who are most closely identified with feminism.
Setting aside the questionable value of the site (Cain is so done, you can visibly see the pop-up timer), and even more questionable taste of shoving Mrs. Cain out in front when she hasn't even seen him since the story broke, if you're going to do a site like this, isn't this the one time you want a picture of real live female supporters up top? Yes, the use of stock photos on political websites is commonplace, but in this case, it just lends itself too easily to punchlines, most obviously that the campaign couldn't find three flesh-and-blood women to give Cain the thumbs up, so they had to buy them.
Have a tip we should know? tips@mediaite.com