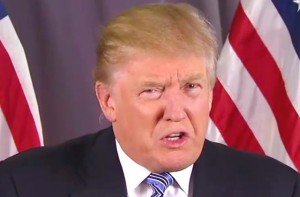 A new poll shows that Trump supporters in North Carolina believe many of the candidate's claims, even if they are baseless and have been proved false.
The poll from the Democratic-aligned Pubic Policy Polling was released Tuesday found that 69% of Trump voters believe that if their candidate loses, it will be because the election was rigged. A mere 16% of Trump supporters think that a Clinton victory would come about because she won more votes.
Perhaps even odder, 40% of Trump voters believe that the long-extinct ACORN will be responsible for the election fraud. ACORN has not existed since 2010. The organization, which worked to register low- and middle-income voters, went bankrupt under a deluge of bad publicity following trumped up accusations of voter fraud from conservative media. Multiple investigations concluded that the group had committed no criminal wrongdoing.
The poll found that other mistruths from Trump's camp have remarkable currency with his supporters.
Almost half (48%) of Trump's supporters believe Barack Obama is responsible for the 2004 death of Capt. Humayun Khan, an ahistorical claim that was bandied on cable news by Trump national spokeswoman Katrina Pierson. Obama was not president in 2004; he was serving as a State Senator in Illinois. Pierson subsequently walked it back.
Moreover, 47% of Trump voters claim to have personally watched the video of 400 million in cash being transferred to Iran — a non-existent video Trump claimed to have seen.
Furthermore, while there was majority support from voters in general (58%) and from independents (54%) that Trump should release his tax returns, the poll also found that 59% of Trump supporters believed he should not release his returns. Trump has long maintained that he will not release his tax returns because he is under an audit — an excuse that is invalid.
"We've been writing for almost a year that there's a cult like aspect to Trump's supporters, where they'll go along with anything he says. Trump made some of his most outlandish claims and statements yet last week, but we continue to find that few in his support base disavow them," Tom Jensen at PPP writes.
—
Sam Reisman (@thericeman) is a staff editor at Mediaite.
Have a tip we should know? tips@mediaite.com