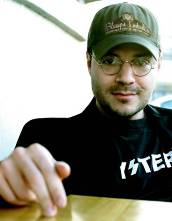 With cell phone video cameras, security cameras and social media tools like Twitter, people in America are more exposed than ever. If someone wanted to be watching, and following, they could.
A new "very R-rated" series on Showtime, Look (premiering Sunday at Midnight), explores this theme. We talked to creator Adam Rifkin this week.
"It was definitely a challenge because you can't fall back on movie magic tricks that you've learned," writer, director and executive producer Rifkin tells Mediaite. He said the challenge was to create "a mini piece of theater per scene."
The concept of the show follows several fictional storylines, shot using only surveillance cameras, webcams and cell phone cameras. Any time a character is texting or tweeting, the audience sees that too. This follows Rifkin's previous movie of the same name back in 2007. But a lot has changed. "When we made the movie I had never heard of YouTube, there was no Twitter," said Rifkin. "The whole point of the TV series, in addition to surveillance and Big Brother, is exploring Little Brother. All webcams, cell phones, Twitter, YouTube, Facebook, iChat, all are different forms of communication where people aren't just being photographed by the government, but are willingly voluntarily putting the entirety of their lives under surveillance."
The show itself is using an active website and Twitter feed to push out information and get viewers interested. "It's the most exciting time for a creative person who wants to be involved in cinema or media," said Rifkin. New Media is an "absolute must for a project like ours."
Besides the leeway gained from being on Showtime, Rifkin gets the added benefit of a Midnight airing. "It gives us the freedom to really take the concept and be true to it," he says. "It's a show about things people do when they don't think they're being watched. That's not always in prime time-friendly ways. We can explore the darker side of the human condition in ways we couldn't do on broadcast TV." (The trailer below features heavy drug use and some almost-nudity – and, of course, that's just the trailer.)
Rifkin has had a very varied career, from family films like Underdog and Small Soldiers to the R-rated projects like this. "I've been really lucky that way," he said. "What those movies afford me is the freedom to be able to focus on smaller, more personal movies."
You can follow the series on Twitter, check out the website here and see the trailer below:


Look premieres Sunday, 10/10/10, at Midnight.
—–
» Follow Steve Krakauer on Twitter
Have a tip we should know? tips@mediaite.com