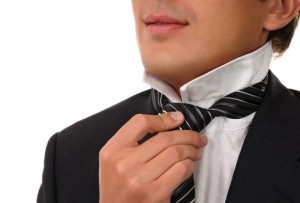 The fate of Newsweek has been very up in the air recently, but for everyone still remaining at the company, there's now a VERY strict dress code they will have to deal with. IBT Media, the new owner of Newsweek, has instituted this dress code with incredibly specific instructions on how to present yourself if you wish to be a member of the Newsweek family.
POLITICO's Dylan Byers obtained a copy of the new employee handbook, which contains some pretty stringent rules. For one thing, "employees should use discretion with perfumes, colognes, and any body scents so as not to offend others.
Everyone at Newsweek is now required to wear "standard business attire," and that's just the tip of the rule-berg.
Midriffs are to be covered. Denim jeans, sweat suits, low-rise pants, sneakers, sandals, flip-flops, halter tops, camisoles, baseball caps, sweat suits, T-shirts, tank tops, micro mini-skirts, shorts or anything else that is deemed unprofessional or excessively distracting are inappropriate business attire and should not be worn to work. Hair should be clean, combed and neatly trimmed or arranged.

Shaggy, messy, and neglected hair is not permissible regardless of length. Also, well-groomed, business style hair of natural color is required. Open-toe sandals are not permitted. Body piercing (other than earrings) should not be visible. Inappropriately dressed employees will be asked to return home to change into suitable clothing. Tattoos and body piercings (other than earrings) must be covered.
Are we to understand that bare midriffs and exposed nipple rings were an issue at the Newsweek offices below?
And the real kicker here is the threat of disciplinary action and unpaid suspension if they do not comply with this policy.
You can read the full dress code here.
[h/t Daily Intelligencer]
[photo via Shutterstock]
— —
Follow Josh Feldman on Twitter: @feldmaniac
Have a tip we should know? [email protected]
---
Josh Feldman - Senior Editor