Newt Gingrich: Mitt Romney The Kind Of Guy 'Who Would Have Fired Christopher Columbus'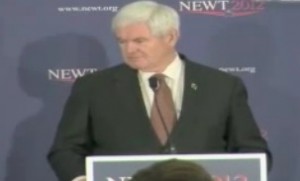 Former House Speaker and presidential very-little-hopeful Newt Gingrich continued his run as the world's most literal-minded Gil Scott-Heron fan today, again deflecting criticism of his Moon Colony by telling a Georgia crowd that Mitt Romney "is the kind of guy who would have fired Christopher Columbus."
In fairness to Romney, though, Vasco Da Gama worked cheaper, and didn't demand health benefits.
Gingrich was referencing a comment Romney made during a debate a month ago, in which he said "If I had a business executive come to me and say they wanted to spend a few hundred billion dollars to put a colony on the moon, I'd say, 'You're fired.'"
The Columbus line, he told the crowd, was courtesy of a voter in Chattanooga, Tennessee, but Gingrich expanded on the sentiment, as well. He told the crowd about the importance of visionaries to the American story, from Abraham Lincoln, to the Wright brothers, to Thomas Edison and Henry Ford. None of them, it should be noted, were ever elected president.
"We've been a nation of visionaries," Gingrich said, "and while the cynics and the quote 'realists' ridicule vision, I believe in the Bible."
He then roughly quoted Proverbs 29:18, saying "Without vision, the people perish."
Of course, in the Bible, having "vision" didn't mean finding a shorter route to the East Indies, it meant seeing lots of beasts and horsemen destroying the Earth with Hellfire, but I take his meaning.
If nothing else, Gingrich may have just thought up a new group of supporters: "Quote 'Realists' For Romney!"
Here's the clip, via ThinkProgress:
Have a tip we should know? tips@mediaite.com