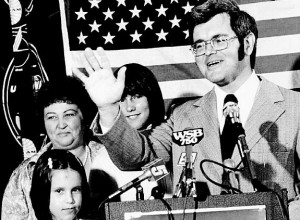 As Newt Gingrich has surged to the top of the polls in the Republican nomination race, fresh scrutiny is being drawn to his colorful past. While much has been made about the notorious story about his divorce to his first wife Jackie Battley, where Gingrich had her sign the divorce papers while in the hospital undergoing surgery, though the story has been stretched to apocryphal heights (e.g. it wasn't her death bed, the divorce was discussed beforehand), less publicized has been how they first met — like how Battley was Gingrich's high school geometry teacher. Er, what?
According to The Washington Post's Paul Farhi:
Battley, who is seven years older than Gingrich, had been Gingrich's high-school math teacher in Columbus, Ga. They began dating after he graduated and were married in 1962, when Gingrich was 19 and a freshman at Emory University in Atlanta.
In a 1998 article, Salon's Stephen Talbot shared further sordid details of Gingrich's surreptitious romance:
As a high school student — precocious, lonely, overweight — Newt secretly romanced his geometry teacher, a buxom, matronly woman named Jackie Battley. The furtive romance with his 24-year-old teacher included nighttime sessions in the back of a car in remote areas of Fort Benning, Ga.

Once, Newt and Jackie were so worked up, they got their car caught in a tank trap on the military base and had to call his best friend to rescue them before a daylight exposé, according to the friend's widow, Linda Tilton. Defying his stepfather, a stern Army colonel, Newt pursued Jackie, married her and promptly had two children.
(h/t WaPo)
Have a tip we should know? tips@mediaite.com