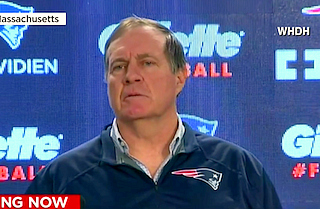 Here is the 90128323th explanation for DeflateGate: according to NFL sources, the league now believes that a lone ball boy of the New England Patriots was responsible for deflating the footballs.
According to Fox Sports reporter Jay Glazer, NFL sources have pinpointed a locker room attendant who "allegedly took balls from officials locker room to another area on way to field". While they are unsure whether there was any wrongdoing on is part, "he is a strong person of interest."
Show of hands: who's a skeptic?
"I'm going to do this even though I haven't cleared it with Brady or Belichick." — No Patriots ballboy, ever.

— Dan Graziano (@DanGrazianoESPN) January 26, 2015
Major question I have following today's ball boy report: Which room did he walk into? There is a bathroom between officials' room and field.

— Jeff Howe (@jeffphowe) January 26, 2015
So, if there really is a rogue ballboy, Belichick's science was bullsh*t. Right?

— Peyton's Head (@PeytonsHead) January 26, 2015
Huge surprise that a random Patriots ball boy will take the fall here. Ball boys always go rogue without instruction before big games.

— Clay Travis (@ClayTravisBGID) January 26, 2015
Who knows, we might not even find the ballboy to begin with:
Tossed the ball boy out over Lake Erie "@AndrewSiciliano: Patriots scheduled to land in 30 minutes @SuperBowl pic.twitter.com/9GE4w49ehf"

— Chris Burke (@ChrisBurke_SI) January 26, 2015
RUN LITTLE BALLBOY RUN! RUN FAR AWAY!

— Drew Magary (@drewmagary) January 26, 2015
[h/t MyFox Boston]
[Image via CNN/screengrab]
—
>> Follow Tina Nguyen (@Tina_Nguyen) on Twitter
Have a tip we should know? tips@mediaite.com