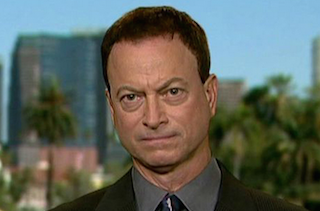 Noted Hollywood conservative Gary Sinise took on former DNC chair Howard Dean on Monday for comments he made about the audience for Clint Eastwood's American Sniper on Real Time with Bill Maher this past week. After Dean described the millions of people who have seen the film as "very angry" members of the tea party, Sinise fired back with an extended statement on the celebrity social media platform Whosay.
Sinise tweeted:
To Howard Dean,
I saw American Sniper and would not consider myself to be an angry person. You certainly have a rig… http://t.co/TrZSeBFcc1

— Gary Sinise (@GarySinise) January 26, 2015
His full statement reads:
To Howard Dean,

I saw American Sniper and would not consider myself to be an angry person. You certainly have a right to make stupid blanket statements, suggesting that all people who see this film are angry, but how is that helpful sir? Do you also suggest that everyone at Warner Brothers is angry because they released the film? That Clint Eastwood, Jason Hall, Bradley Cooper, Sienna Miller and the rest of the cast and crew are angry because they made the film? Chris Kyle's story deserved to be told. It tells a story of the stress that multiple deployments have on one military family, a family representative of thousands of military families. It helps to communicate the toll that the war on terror has taken on our defenders. Defenders and families who need our support. I will admit that perhaps somewhere among the masses of people who are going to see the film there may be a few that might have some anger or have been angry at some point in their lives, but, with all due respect, what the hell are you talking about?
RELATED: Fox's Gretchen Carlson Blasts Howard Dean for Politicizing American Sniper
Dean is just the latest liberal figure to receive a torrent of conservative backlash for criticizing the movie, which quickly became the highest-grossing January release of all time. Michael Moore and Seth Rogen experienced similar outrage after tweeting about the film over the last couple of weeks.
Watch video of Dean's comments below, via HBO:
[Photo via screengrab]
— —
>> Follow Matt Wilstein (@TheMattWilstein) on Twitter
Have a tip we should know? tips@mediaite.com