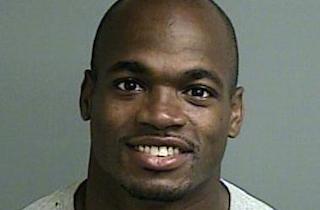 The National Football League announced that it will suspend without pay Minnesota Vikings star running back Adrian Peterson for the remainder of the 2014 season.
Peterson catapulted to national infamy earlier this year when he faced charges of child abuse. Though he reached a plea agreement with Montgomery Co., Texas, prosecutors on Nov. 4, the league said Tuesday morning that it will suspend the star athlete "for violating the NFL Personal Conduct Policy in an incident of abusive discipline that he inflicted on his four-year-old son last May."
More from CBS Sports:
According to the league, Commissioner Roger Goodell sent a letter to Peterson stating his reinstatement "will be based on the results of the counseling and treatment program set forth in this decision. Under this two-step approach, the precise length of the suspension will depend on your actions. We are prepared to put in place a program that can help you to succeed, but no program can succeed without your genuine and continuing engagement. You must commit yourself to your counseling and rehabilitative effort, properly care for your children, and have no further violations of law or league policy."

Goodell said in the letter that Peterson will have an opportunity to appeal his suspension, and his pay could be reinstated during the appeals process. However, Goodell warned that any future violation of NFL policy could result in banishment from the league altogether.

As recently as Sunday, Peterson had complained about the NFL's disciplinary process, calling it "without fairness or accountability."
Full report here.
And more of Mediaite's coverage of the Peterson scandal here.
Have a tip we should know? tips@mediaite.com