NH Lawmaker Trashes Adorable Bill Submitted by 10-Year-Olds, Compares It to Abortion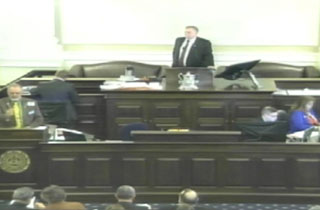 Let us start with this a priori: bills written by fourth graders should not be passed into law. If they did, we'd all be forced to eat jelly bean sandwiches every day, or own ponies named after characters from Frozen, or be repeatedly punched in the crotch because this is what fourth graders find funny. But it is worthwhile to teach them about the legislative process, even the part where lawmakers are mean and graphically compare their civic efforts to Planned Parenthoods abortions — wait okay no we take that last part back.
According to CBS Boston, it all began when a group of fourth graders from New Hampshire's Lincoln Akerman School decided to take a bill to their state legislature, proposing that the red-tailed hawk be named the official "state raptor". They were in attendance at the State House in Concord when their bill was debated on the floor of the House of Representatives.
Sadly, the bill was defeated, 160-133, because most of the lawmakers thought it was a waste of time when they had a $10 billion budget to debate. "If we keep bringing more of these bills and bills and bills that really I feel we shouldn't have in front of us, we'll be picking a state hot dog next," State Rep. John Burt (R) said.
Fellow GOP representative Warren Groen also rejected the bill, because he doesn't like the red-tailed hawk. And why doesn't he like the red-tailed hawk?
"(The red-tailed hawk) mostly likes field mice and small rodents. It grasps them with its talons and then uses its razor sharp beak to rip its victims to shreds and then basically tear it apart, limb from limb. And I guess the shame about making this the state bird is it would make a much better mascot for Planned Parenthood," Groen said.
WHOA THERE.
Principal Mark Deblois told the AP that while the parents were outraged when their children came home asking about Planned Parenthood, the children were more upset that the lawmakers made fun of their bill. "That was almost more upsetting to them because they understood those references. Why didn't they take us seriously? Why were people laughing?"
Oh, children. You live in a world where you understand that a hot dog is an insult and yet know nothing about the toxic debate surrounding abortion. Keep that purity as long as you can.
Groen, for his part, is of the position that the world is a cruel place and that children should learn that now instead of later:
Groen defended his comments and chastised critics for being outraged by his comments but not by abortion.

"The gallery is open to the public and there are children in the gallery every day," he said. "I don't know if we should limit free speech or limit the attendance in the gallery. It seems either one would be bad for transparency in government."
[h/t Gawker]
[Image via screenshot/New Hampshire State House]
—
>> Follow Tina Nguyen (@Tina_Nguyen) on Twitter
Have a tip we should know? tips@mediaite.com