Café 8 ½ in Honolulu has a wonderful and festive menu, inviting to all sorts of diners looking to enjoy Italian fare.
That is, only if you're not a deplorable!
At least, that's what the cafe asked of patrons when it put this yellow notice on its front door, warning that restaurant goers who voted for Republican nominee Donald Trump would not be allowed to eat there: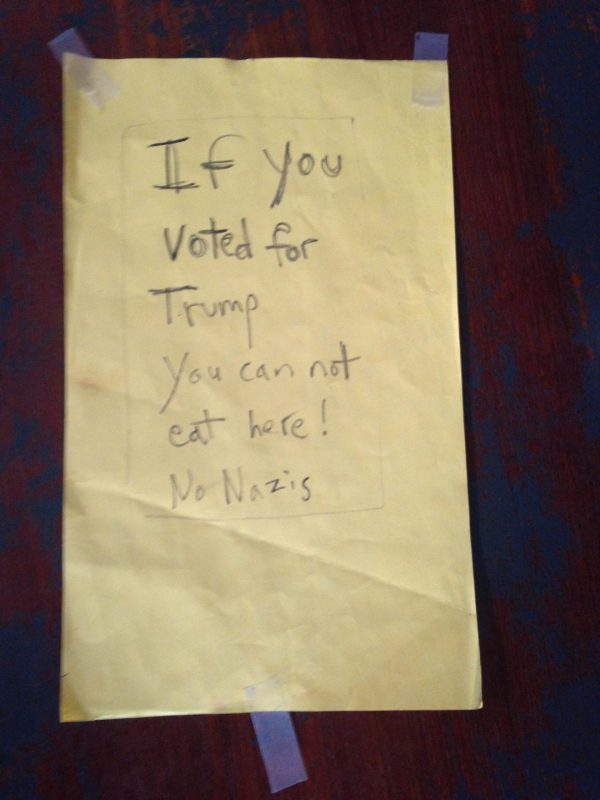 Oh, and it also adds the words "No Nazis" in case you were confused.
The owner of Café 8 ½ — Robert Warner — says he had no idea that his "scribbled" note would go viral or evoke a high backlash. "Just 12 words on a piece of paper. It was not that big. You don't see it from the street or anything. Just kind of scribbled off quick," Warner said.
As for how vociferously he defends his political commentary, Warner revealed, "I didn't really mean it for real either." He clarified the spirit of the note:
"If somebody came in and said, 'Hey, I know you can't tell who I voted for, but I voted for Trump. Would you let me eat?' I would say, 'Sure, if you're nice with me and I'm nice with you and you like my food, sit down, no problem.'"
But not everyone has been so kind to Warner's note, with some connecting his rhetoric to that of other prejudicial purist behavior in history:
More understanding and tolerance from the #prejuduce #LiberalExtremists at Cafe 8 1/2 in Honolulu #BoycottCafe_81/2
pic.twitter.com/8oBcKqFqHl

— The Bad Guy (@Mad_Deuce) December 28, 2016
Café 8 ½ is also drawing comparisons by many to christian cake shops that refuse service based on sexual orientation, as the debate continues over equal protection versus freedom of expression.
Predictably as happens when a local business creates a national uproar, it finds itself on the receiving end of a few unfavorable Yelp reviews. One Yelper wrote, "Putting up a sign denying service to certain people because of their beliefs, customs, race, backgrounds, sexual preference or whatever it may be is never a good idea. You call others 'Nazis' yet you are doing just as they did and casting people out because they are different from you."
Another user from Los Angeles wrote of the cafe, "So far, all you have done is further the divide between two groups who are already so divided. There is an old saying, if you are hot here to solve the problem…you are the problem."
"This is the type of attitude you would expect to see during the 50s and 60s during the Civil Rights movement, but apparently the owners of this establishment haven't matured," wrote another. The establishment's overall Yelp rating has plunged to 2 out of 5 stars.
At least some commenters were there solely for the food. One Yelper avoided politics in his review altogether, writing simply, "Avoid this pace like the plague–because you may contract the plague by eating the food here."
—
[image via Hawaii News Now]
Have a tip we should know? tips@mediaite.com