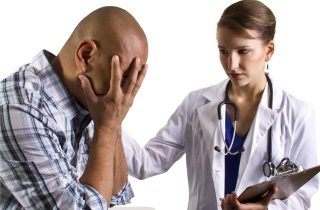 According to recent study from ViralHorseCrap.com, 95% of American media consumers and producers are gullible. The study was based on looking at two widely-shared viral stories in the news this week that we all fell for in a rush to pull in web traffic. The margin of error is eight billion percent. And if you believe any of that, do you happen to be looking for a job in the media, because you've just got what it takes.
The first story this week, which has since been thoroughly dissected by a variety of outlets, including The New Republic, began with a piece in the Los Angeles Times that reported on a press release from a UK coupon website (lol), that claimed 1 in 10 Americans thought HTML was an STD, among other comical misunderstandings. Everyone from Time to BuzzFeed and the Huffington Post, to, woops, Mediaite, regurgitated the press release as fact seemingly without having looked at the survey.
ViralCoupons.com (lol, again), has since posted a more thorough breakdown of their numbers, but, as IMediaEthics points out in a thorough look into the whole mess, there is little evidence of any actual scientific methodology behind their findings. Also the site is known for conducting similar viral stunts in the past.
So why did everyone share it? Well, that's because it's nice to be provided with evidence that everyone else is dumb, something we all suspect. And when we get data to prove it – Says here in this study that you're an idiot! – sharing that news gives us all a nice little ego boost. Similar to what I'm doing here in this blog post.
It wouldn't have taken long to figure out something was weird here. Look at some of the other results from the survey, and tell me you think anyone actually believes any of this nonsense. A gigabyte is a large mouthful of food? A migraine is a type of rice? Jargon is a planet in our solar system? The purpose of the survey was purported to be about how important information about technology is. That was the last question in fact. Real scientific surveys don't tend to end with zinging kickers. The only thing dumber than actually thinking any of those things is believing that anyone thinks any of those things.
A second, more plausible news item that was passed around like a jazz cigarette this week was the one about the "the first time that any 'major' U.S. network has ever allowed the advertising of a medical marijuana service." ABC News, Time, and NBC News, and, uh, no one else you know why do you ask, also based their coverage of this item on an unverified press release from the producers of the commercial, MarijuanaDoctors.com. As CNN points out in a lengthy look at the snowballing story, not only did the commercial not even go to air, it wouldn't have even been the first to do so if it had.
Granted, this one isn't as bad as the survey nonsense, because a Comcast spokeswoman told ABC that the spots were going to air, but as is often the case when sites write about controversial or banned commercials and so on, the news story about the controversy ends up providing them with far more coverage than they would have ever gotten had they actually aired. Remember the "banned" Super Bowl commercial about the guy who loved his family so much he needed a machine gun from earlier this year?
The marijuana commercial in question, by the way, featured a shady looking character with sushi inside his trench coat. "You wouldn't buy your sushi from this guy, so why would you buy your marijuana from him?" it asked.
In other words, drug dealers are untrustworthy, so don't go into business with them. If they really wanted to scare people they should've recast him as a blogger. Now there's someone you should't trust.
[h/t Steve Annear]
[Image via Shutterstock]
— —
>> Luke O'Neil is a journalist and blogger in Boston. Follow him on Twitter (@lukeoneil47).
This is an opinion piece. The views expressed in this article are those of just the author.