Nothing Accomplished During Meeting Between de Blasio, Police Union Leaders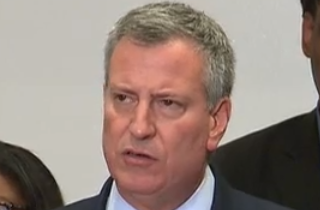 Mayor Bill de Blasio and NYPD union leaders left a two-hour meeting yesterday with very little progress made towards resolving tensions between the city and the police force.
After the death of Eric Garner and the non-indictment of the policeman who killed him sparked mass protests throughout the city, the police force accused de Blasio of inciting more riots, as well as the deaths of two NYPD officers, by making statements seemingly accusing the police of unfairly targeting black men. It led to police protests and condemnations by NYPD union leaders, as well as policemen deciding not to give a crap en masse, prompting de Blasio to call a meeting with the union leaders.
The New York Post reports that after the two-hour meeting, everyone was happy, the police loved de Blasio again, and racism was solved HA no:
One union leader accused de Blasio of personally making "inflammatory" statements following the grand-jury ruling, including that the mayor had taught his biracial son, Dante, about the "dangers" posed by cops, sources said.

But de Blasio offered no apology for that revelation, his handling of the protests or his use of the word "allegedly" to describe a Dec. 13 ­attack on two NYPD lieutenants during a demonstration that spilled onto the Brooklyn Bridge.

Sources said [Police Benevolent Association head Patrick] Lynch also confronted de Blasio about letters that Lynch said were being circulated by the administration to condemn Lynch and the PBA for disrespecting de Blasio.

After the meeting, Lynch said nothing had been accomplished.

"There were a number of discussions, especially about the safety issues members face. There was no resolve," Lynch said.

"And our thought here today is that actions speak louder than words and time will tell."
Lynch, if you recall, was the union leader who openly blamed de Blasio for the deaths of Rafael Ramos and Wenjian Liu, and once called laws regulating the NYPD's behavior "stupid."
[New York Post]
[Image via screenshot]
—
>> Follow Tina Nguyen (@Tina_Nguyen) on Twitter
Have a tip we should know? tips@mediaite.com