NY Congressman Hypes Notorious BIG as Example of American Dream, Forgets He Was a Drug Dealer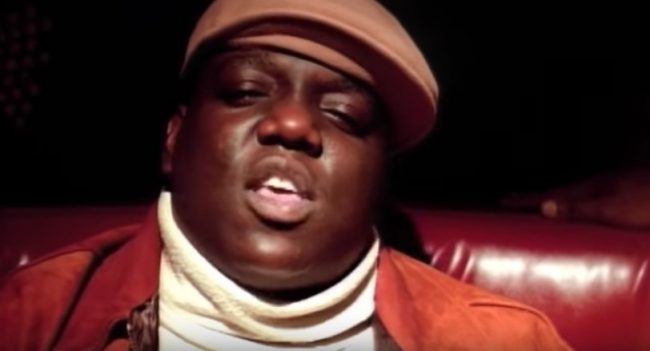 I'll admit, sometimes Biggie's words do hypnotize me. Even so, taking time on the floor of the 115th Congress to praise the man as an example of The American Dream seems a little ridiculous, especially given his track record where drugs and weapons were concerned.
Congressman Hakeem Jeffries (who represents portions of Brooklyn and Queens, NY) on Thursday took a moment to quote the Christopher Wallace (aka Biggie Smalls) song "Juicy" and say a few words about him.
"It was all a dream, I used to read Word Up! magazine / Salt-N-Pepa and Heavy D up in the limousine / Hangin' pictures on my wall / Every Saturday Rap Attack, Mr. Magic, Marley Marl"

Those were the words of the late, great Notorious BIG. Biggie Smalls, Frank White, the King of New York. He died 20 years ago today, in a tragedy that occurred in Los Angeles. But his words live on forever. I've got the privilege of representing the district where Biggies Smalls was raised. We know he went from negative to positive, and emerged as one of the world's most important hip hop stars. His rags to riches life story is the classic embodiment of The American Dream. Biggie Smalls is gone but he will never be forgotten. Rest in peace, Notorious BIG. Where Brooklyn at?
Just paid tribute to late/great #BiggieSmalls on House flr. Gone but never forgotten. #WhereBrooklynAt @OmariHardwick @diddy @MichaelSkolnik pic.twitter.com/2QaXOkmJdp

— Hakeem Jeffries (@RepJeffries) March 10, 2017
There is absolutely no denying Wallace's contribution to the music industry. AllMusic has called the man "the Savior of East Coast hip-hop," and Rolling Stone considers him "the greatest rapper that ever lived."  What Biggie did better than anyone at the time (and still better than many today) was tell a story through rap. In his song "I Got a Story to Tell" he first raps the story, then tells it again, conversationally. "Suicidal Thoughts" sees him contemplating suicide, then following through with the act. Most may think that his songs only dealt with drugs and violence, and while they were recurring themes throughout his oeuvre, he also wrote love songs and had a sense of humor in his music.
As a kid growing up in Pittsburgh in the 90's, his was the music I was surrounded with. I stole my sister's copy of Life After Death (sorry, Sara), and I still know most of the lyrics to "Mo Money, Mo Problems." Clearly, the man shaped the better part of a generation through his music.
Sadly, though, the man left behind a sordid personal life that mars most of that legacy. Drugs and violence figured prominently into his music because they also figured prominently into his personal life. A drug dealer from age 12, Wallace would continue to this behavior well into adulthood (even after the release of the song that Jeffries quoted). At age 16, he would be arrested on weapons charges and sentenced to probation (a charge he would be accused of, again, after the release of the song that Jeffries quoted). His own murder in 1997 was a violent public display in Los Angeles, thought to be in retaliation to the murder of Shakur.
Congressman Jeffries calls Wallace "the classic embodiment of The American Dream." In some ways, he is correct: Here was a man who became successful through hard work and dedication, not to mention his innate talents. What Jeffries gets so wrong, though, is in his latent disregard of Wallace's seeming moral and ethical malfeasance.
Jeffries seems more committed to praising the man simply because he is representative of the district he serves than he is about making the man's criminal history an example. What a great opportunity this would have been to call for reform to gun control laws. The congressman could have just as easily used this speech to start a conversation about how drug-related crimes in his district have gone down in the years since the rapper's death. Even simpler, Jeffries could have related the tribute to the change in drug usage over the last decade in his district. Anything. The congressman could have — SHOULD have — related this relatively pointless salute to anything of substance. Instead he just looks like a fangirl taking a moment to talk about his favorite rapper.
And saying that the man went "from negative to positive" is a disgustingly reckless sentiment. This statement, then, makes it seem as though Jeffries thinks that going from being a poor, unknown, drug-dealing, weapon-carrying rapper to being a rich, well-known and praised, drug-dealing, weapon-carrying rapper is indicative of a positive change. Maybe he's simply commenting on the fact that Biggie contributed to something larger than himself and for that he should be lauded. If that is the case, Jeffries should have been quick to point that out.
His lack of specification as to why he felt Biggie Smalls was worthy of a tribute on the congressional floor is impetuous, injudicious, not to mention vapid. With all that Congress has on it's plate as of recent, this seems like a good reminder that each and everyone one of us should hold our representatives accountable for their actions on the congressional floor.
[image via screengrab]
——
Adam: Twitter.
This is an opinion piece. The views expressed in this article are those of just the author.