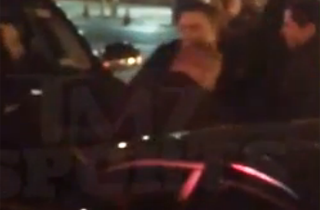 An NBA player will be forced to sit out the rest of the regular season after the NYPD threw him to the ground during an altercation, causing him numerous injuries.
Atlanta Hawks player Thabo Sefolosha, along with teammate Pero Antić, were present during a scuffle outside of a Manhattan nightclub earlier this week, in which three people were stabbed. (One of them was fellow NBA player Chris Copeland, suffered minor injuries and apologized publicly for letting the fight get out of hand.)
According to Gothamist, Selosha and Antic were not involved in the stabbing, but police soon arrested them for obstruction after they "move[d] a couple of feet away but refuse[d] to clear the area." In a video of the arrest obtained by TMZ, police quickly grabbed Selosha's neck and threw him to the ground, fracturing his tibia and damaging his ligaments. (The police report claims "he flailed his arms, twisted his body and kicked his legs. It took four people, according to the complaint, to get him into cuffs." The two men were eventually charged with resisting arrest and Obstructing Governmental Administration.
Hawks coach Mike Budenholzer said that the team would fully support Selosha: "This is a very difficult situation for Thabo and our thoughts and support will be with him during his recovery."
Watch below via TMZ:
[Gothamist]
[Image via screenshot/TMZ]
— —
>> Follow Tina Nguyen (@Tina_Nguyen) on Twitter
Have a tip we should know? tips@mediaite.com