NY Post Photographer Defends Himself: 'There Is No Way I Could Have Rescued' Subway Victim
Photographer Defends Himself: 'There Is No Way I Could Have Rescued' Subway Victim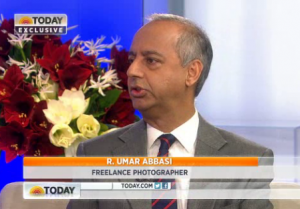 The New York Post received criticism yesterday after publishing photos of a man, who was pushed onto the subway tracks, moments before an oncoming train struck him. Ki Suk Han was later pronounced dead at the hospital — and the photos made the Post's front page. R. Umar Abbasi, the freelance photographer who took the photos, also came under fire, and on Wednesday, he defended himself.
RELATED: NY Post Publishes Images Of Man Pushed Onto Subway Tracks And Fatally Injured By Train
Abassi penned a first-person piece in the Post and also appeared on Today. "It took me a second to figure out what is happening," he told Matt Lauer and Savannah Guthrie. "The only thing I could think of at the time was to alert the driver with my camera flash, and I started running."
Lauer said there were 22 seconds between Han being pushed and the train hitting him. "Was there nothing you could have done?" Abassi said there were others who were closer who could have helped. "It looks like you're very close," Lauer said, holding up the issue of the Post.
"This is a frozen moment," Abbasi said, adding that the train struck Han moments later. "There is no way I could have rescued Mr. Han."
In his piece in the Post, Abassi went on to respond to his critics, expressing some surprise:
I have to say I was surprised at the anger over the pictures, of the people who are saying: Why didn't he put the camera down and pull him out?

But I can't let the armchair critics bother me. They were not there. They have no idea how very quickly it happened.

They do not know what they would have done.

Before I went into the subway, I had been up in Times Square, and my camera was still set for outside lighting. The flash was on 1/64th of a second, which would be split-second recharging.

People think I had time to set the camera and take photos, and that isn't the case. I just ran toward that train.
There were others, he said, who are visible in the photos and did not try to help.
"The truth is I could not reach that man; if I could have, I would have, Abassi said. "But the train was moving faster than I could get there."
Read Abassi's full piece here.
Video of the Today interview below, via NBC:

Have a tip we should know? tips@mediaite.com