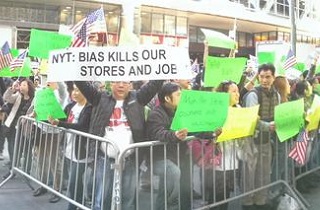 On Tuesday morning, The New York Times was protested by hundreds of nail salon workers and owners over an industry exposé the paper published in May.
The two-part investigative report written by Sarah Nir, titled Unvarnished, made innovative use of multimedia and translations to get its message(s) across to readers in a variety of platforms. Within a week, New York Gov. Andrew Cuomo issued an official order to address the industry's apparent abuses of labor.
Five months later, hundreds of the city's nail salon workers and owners gathered outside of the Times offices in Manhattan. Jezebel's Helen Holmes monitored the demonstration and, whenever any of those in attendance were willing or able to talk, tried to discuss the Chinese Nail Salon Association of East America and the Korean American Nail Salon Association of New York's reasons for being there. Most wouldn't speak up, but one owner eventually came forward.
"This is the Chinese community, and we've all come together because of the New York Times' misleading article," said the owner. "I couldn't say discrimination, but the New York Times is not doing the fair thing for our community."
At face value, the protesters were protesting the Times' apparent discrimination of the city's predominantly Asian-American nail salon workers and owners––despite the unidentified man's reluctance to use the word "discrimination."
Yet as Unvarnished author Nir pointed out on Twitter, there was a rather striking coincidence regarding the protest's date:
Today is the deadline to buy insurance against defrauding workers, so nail salon owners are protesting outside NYT pic.twitter.com/u6gMQAI3L0

— Sarah Nir (@SarahMaslinNir) October 6, 2015
Turns out, Cuomo's state order resulted in hundreds of inspections of New York's nail salons and beauty parlors, according to NBC News. As a result, all salons with two or more full-time employees were required to secure wage bonds on or before Oct. 6. In otherwise, salon owners had to insure that they would adequately pay their employees or risk being fined or shut down by the end of the day on Tuesday — the day of the protest.
Nir's Times series isn't without its own criticisms, per a flyer handed out at the protest:
"We are mom and pop shops owned by immigrants from Asia, who created this business more than 30 years ago," reads a flyer distributed at the demonstration. "There are more than 3,000 salons in New York, and the vast majority pay their workers reasonable, legal salaries, plus tips and commissions. Every day, the Asian-language newspapers are rife with classified ads placed by hundreds of salons in the New York area seeking qualified workers and offering salaries that are entirely legal. Contrary to the false assertion in the New York Times, there are no ads for licensed manicurists paying $10 a day—none."
Former Times journalist Richard Bernstein wrote a spirited defense of the industry for the New York Review of Books in July, which was quickly rebuffed by the Times. Both pieces squabbled over just how much or little pay was being offered to salon workers in the city. Interestingly, one of the protesters Jezebel talked to contested the renewed insistence on the original piece's evidence by the Times rebuttal, saying that an important part of it was based on poor translation.
Nir responded to the website's request for comment, saying she "deeply [respected] the people's right to express their opinion."
[h/t Jezebel]
[Image via Twitter]
— —
>> Follow Andrew Husband (@AndrewHusband) on Twitter
Have a tip we should know? tips@mediaite.com