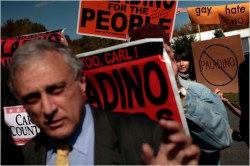 Do unto others. In response to Carl Paladino's "brainwashing" gay-bashing remarks this weekend, and his jab at Andrew Cuomo for exposing his daughters to the "disgusting" "extremists in the Gay Pride Parade" the NYC Gay Pride Parade has invited Paladino to participate in the parade next year. Yes.
The website Gothamist reached out to the organizers of the parade for response today and it must be said they responded admirably:
We would hope that the personal views of a political figure do not adversely affect the struggles and challenges that the LGBT community is faced with on a daily basis….Although we may not agree with views of Mr. Paladino, such statements highlight the importance of our Annual Pride events in combating the hatred and homophobia that is still present in our society. We welcome him to march with us, the LGBT community, our allies, and other political figures in the 2011 NYC Pride March on June 26th.
Read the full statement here. It is apparently sinking in over in Paladino-land that he crossed the line this weekend. After telling Matt Lauer on the Today show that "No, I don't regret the remarks" he appeared to attempt a backtrack this afternoon releasing a statement saying he should have "chosen better words."
"[Yesterday I was] handed a script. I redacted some contents that were unacceptable. I did also say some things for which I should have chosen better words. I said other things that the press misinterpreted and misstated. I sincerely apologize for any comment that may have offended the gay and lesbian community or their family members."
Unlike the witchy Christine O'Donnell campaign one shudders to think what the next offensive thing to come out of Carl Paladino's mouth will be.
Have a tip we should know? tips@mediaite.com