Obama On His Media Diet: Jon Stewart Is 'Brilliant,' Reads All NY Times Columnists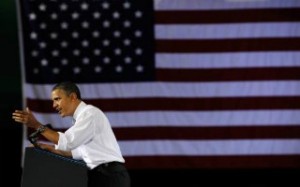 President Obama made the cover of Rolling Stone with an interview that discussed everything from general election campaigning to race in America, and gay rights. Emphasizing some of his usual talking points (jobs, foreign policy), Obama also noted some of media habits, including reading all the New York Times columnists.
Asked about marriage equality, Obama said, "I'm not going to make news in this publication. I've made clear that the issue of fairness and justice and equality for the LGBT community is very important to me. And I haven't just talked about it, I've acted on it." By which he meant the repeal of Don't Ask Don't Tell. He added:
You haven't read a single story about problems in our military as a consequence of the ending of the policy. So whether it's on that, or changing the AIDS travel ban, or hospital visitation rights, or a whole slew of regulations that have made sure that federal workers are treated fairly in the workplace, we've shown the commitment that I have to these issues.
Obama, talking about the difficulty of his job, said, "You end up having a very thick skin. I entered here with a thick skin, and now my skin is even thicker. […] You don't take it personally – you just recognize that it goes with the office and the desk and Marine One and all the other aspects of being president."
Then there's the media diet:
I don't watch a lot of TV news. I don't watch cable at all. I like The Daily Show, so sometimes if I'm home late at night, I'll catch snippets of that. I think Jon Stewart's brilliant. It's amazing to me the degree to which he's able to cut through a bunch of the nonsense – for young people in particular, where I think he ends up having more credibility than a lot of more conventional news programs do.
I spend a lot of time just reading reports, studies, briefing books, intelligence assessments.
He also said he reads the NYT, Washington Post and Wall Street Journal every morning, "just to catch up." What about Paul Krugman?
I read all of the New York Times columnists. Krugman's obviously one of the smartest economic reporters out there, but I also read some of the conservative columnists, just to get a sense of where those arguments are going. There are a handful of blogs, Andrew Sullivan's on the Daily Beast being an example, that combine thoughtful analysis with a sampling of lots of essays that are out there. The New Yorker and The Atlantic still do terrific work. Every once in a while, I sneak in a novel or a nonfiction book.
Obama also managed to sneak in a quick brag about his vocal skills. About his Al Green rendition, he said, "I can sing. I wasn't worried about being able to hit those notes."
(H/T Rolling Stone)
Have a tip we should know? tips@mediaite.com