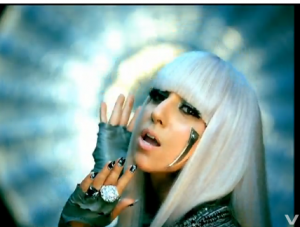 On February 8, 2008, the unthinkable happened. Polaroid, the film responsible for many a Misshapes photo-op, announced that it would be ceasing production.
Then came the Messiah: Lady Gaga.
Yesterday in Vegas, the Lady herself appeared at the Consumer Electronic Show to discuss her new role as creative director for a line of new Polaroid products. In a statement to the press, Gaga expressed her excitement:
The Haus of Gaga has been developing prototypes in the vein of fashion/technology/photography innovation — blending the iconic history of Polaroid and instant film with the digital era — and we are excited to collaborate on these ventures with the Polaroid brand. Lifestyle, music, art, fashion: I am so excited to extend myself behind the scenes as a designer, and to as my father puts it — finally, have a real job.
After her performance on MTV's Video Music Awards where she performed a bloody version of "Paparazzi" and her smashing-into-a-burning-piano act at the AMAs, she may have resurrected mainstream performance art. "Bad Romance," along with Alexander McQueen's platforms and Benjamin Cho's faux polar bear coat, has resurrected art in music video. And now, Gaga will resurrect the Polaroid.
If you don't think she can do it, consider the phenomenal 2009 she has had, with four #1 songs, a huge-selling debut and follow-up album, videos that keep getting better than the last, and a sold-out concert tour. Brand Gaga is a winner — and a perfect star for Polaroid to latch on to.
(P.S. Nice touch bringing Gaga to CES — if you wondered whether it had gone mainstream, well, wonder no more. Taylor Swift was there, too, performing for Sony in 3D. Related: Lady Gaga in 3D? The mind reels.)
Gaga branded products are expected to be released for Christmas 2010. Saturn ring encased camera anyone?
Have a tip we should know? tips@mediaite.com