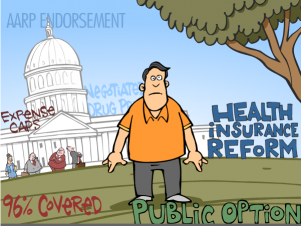 Apparently, the Tea Partiers (known to certain people as future rulers of this decade) do not read NPR.org. Admittedly not the most shocking news you've probably heard today. Yet what is surprising in this new media, SEO friendly, polarizing news cycle is that this animated cartoon by (independent syndicated columnist) Mark Fiore titled "Learn to Speak Tea Bag" ran for close to two months before anyone noticed it enough to put it on the blogosphere radar. You can watch it here and this is a sample of the dialogue:
Moderator: Good, very good. Lesson two: If you're having trouble understanding the words of others or being understood yourself, use teabag's stronger, more descriptive words.

Character: "Nazi, Nazi, Nazi."
And so on. Anyway the cartoon has just this week picked up some not-so-happy commenter steam, so much so that NPR.org has had to address it (also, perhaps in the future they should avail themselves of the Urban Dictionary).
It's actually not that funny — especially to those on the right, including members of the Tea Party movement, which is populated by passionate Americans who don't like the direction President Obama is taking the country…Interestingly, while the cartoon discusses how to "speak tea bag," it never uses the term "tea bagger."

There was no sexual insult intended, said both Fiore and Ellen Silva, NPR's opinion editor who signed off on the cartoon after fact-checking it. "I take full responsibility for putting it up on the site," said Silva. "I confess to thinking the term 'tea bagger' was just a slang term for Tea Party supporters and had even heard conservatives referring to themselves that way. Any other connotation didn't occur to me until after the recent ruckus erupted."
Oy. It's a bit like the political version of having the sex talk with your parents. The lengthy response goes on to note NPR "does not receive direct funding from the federal government" (i.e. President Obama did not have any hand in this) as well as pointing out the same cartoonist has also penned cartoon criticizing Obama! You can read the whole thing here.
Have a tip we should know? tips@mediaite.com