Patrons Report Armed Police at Silver Spring, Maryland Screening of Lee Daniels' The Butler
Patrons Report Armed Police at Maryland Screening of
Lee Daniels' The Butler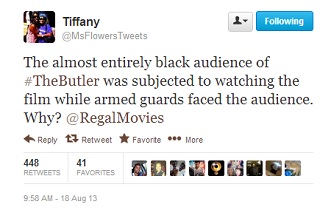 The new Civil Rights drama Lee Daniels' The Butler is a smash hit, but according to some Regal Cinemas patrons in Silver Spring, Maryland, the theater's security for the film was a colossal bomb. A Twitter user named Tiffany Flowers reported that patrons of the Silver Spring Regal Cinemas had their tickets to The Butler checked twice, and were greeted in the theater by armed policemen. Managers at the theater have been directed not to comment, referring media inquiries to a phone number that's unmanned on weekends, but Washington ABC affiliate WJLA will air a report on the story this evening.
Lee Daniels' The Butler took an unexpectedly decisive victory at the box office this weekend, opening at an estimated $25 million, well ahead of fellow new release Kick Ass 2's $13 million estimated gross. The film traces the Civil Rights movement through the eyes of a White House butler played by Forest Whitaker, whose Cecil Gaines character is based on late real-life White House butler Eugene Allen. The publicity tour for the film has, naturally, featured heavy discussion of race, and the film's relevance to current events like the killing of Trayvon Martin, racial profiling in general, and the gutting of the Voting Rights Act.
But racial profiling is exactly what Regal Cinemas is being accused of over their deployment of armed police and extra security steps at an 8:05 pm showing of The Butler. Thirty-five year-old Tiffany Flowers and her husband, 38 year-old Alan Hanson (update: the couple are not married), were shocked by what happened at the theater.  Ms. Flowers tweets:
I'd like to take this time to express my utter disgust with@RegalMovies cinema in Silver Spring, MD. You all should stay away from here.

.@hanson_alan and I went to see #TheButler @RegalMovies last night and let me tell you what an unpleasant experience it was…

Tickets were double validated. First they get torn then upon entering the theater (10 FT. AWAY) we were asked for stubs again.@RegalMovies

Then as soon as we enter the theater we were greeted by an actual police officer who herded traffic in one direction. @RegalMovies

Once we get around the corner and start looking for seats we see yet another police office inside the theater facing patrons.@RegalMovies

This was our first (and final) trip @regalmovies but we were told that this is completely out of the ordinary. #TheButler

The almost entirely black audience of #TheButler was subjected to watching the film while armed guards faced the audience. Why?@RegalMovies

RT @HoneyNectar17: @Me @RegalMovies Why the police presence? Is it a rowdy theater with a lot of unruly pre-teens and teenagers? <– No!

@HoneyNectar17 @RegalMovies As a matter of fact it was the 8:05 show. There were mostly elders and people our age in the crowd.#TheButler

@Oprah I went out to support #TheButler last night and@RegalMovies thought it'd be cool to extend the onscreen discrimination to the crowd.
Ms. Flowers said she didn't see armed guards at any of the other films showing at the location, and tells Mediaite that management confirmed to her that there weren't guards at any other films last night. When reached by Mediaite, the theater's manager said he had been instructed not to comment, and would not confirm any details of Tiffany's story.
Before being ordered not to comment, that same manager did tell Tiffany that "all big selling movies have this type of crowd control," and gave Harry Potter as the most recent example, but there were apparently no such measures taken for the violent sequel to Kick Ass that also opened this weekend, which was expected to do much better than it did.
Twitter reaction to the story has been blistering:
Nostradeptus: What the heck about the Butler made the white superiority state think we'd riot?

Nostradeptus: There is a reason they institute S&F laws has nothing to do with crime and everything with instilling fear in the Black community

Nostradeptus: That way all they have to do is march out their police and we're supposed to accept armed guards watching us watch a movie

Nostradeptus: They got police dispatched to watch us watch movies, but drones, right bro? The NSA my brother right??? #fuxthemdudes

Cocky McSwagsalot: The almost entirely black audience of #TheButler was subjected to watching the film while armed guards faced the audience. Why?
The furious Twitter reaction to the story prompted WJLA to get in touch with Tiffany, and they'll be airing a report on the incident this afternoon, in which Regal Cinemas will reportedly respond to the controversy.
Update: Regal Cinemas has issued a statement, first reported by TheGrio.com's Joy-Ann Reid:
Russ Nunley, a spokesman for Regal Cinemas, emailed theGrio the following statement Sunday afternoon:

Regal Entertainment Group routinely employs security personnel to ensure the safety all of our guests and staff. When a theatre experiences sold out showings of any feature, security will assist with crowd control and guest assistance throughout the facility, including auditoriums.

This weekend our Majestic theatre experienced a tremendous guest response to the feature the 'Lee Daniels' The Butler' such that additional showtimes were added to meet our guests demands.

At no time did local management receive any guest complaints or concerns about our security or staff, who worked diligently to meet all of our guests needs.

To the extent any guests were dissapointed with their experience, we welcome the opportunity to address their concerns and provide them the best entertainment experience possible in their future visits to our theatres. [sic]
Here's a video report on the story, from WRC-DC:
Have a tip we should know? tips@mediaite.com