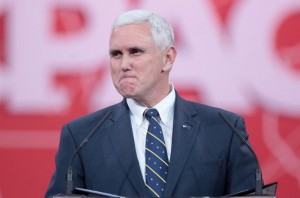 Republican VP nominee Mike Pence is a prolific opinion writer and editor.
First, digging revealed that he once penned a piece suggesting that Disney's Mulan was lefty propaganda about women joining the army. Now, we have more to share from his time as the publisher of the Indiana Policy Review, which is a position he served in from 1991 to 1994.
Here is a piece in which he lamented that the 1996 Republican Convention had low ratings because "an endless line of pro-choice women, AIDS activists, and proponents of Affirmative Action may have struck a chord with the Washington press corps." Not too shocking in a publication put out by a right-wing think tank, right? Okay, try the next one.
In December of 1993, he published this column about the news that some newspaper had attended a job fair for gay journalists. Notably, this passage stands out:
Will a gay writing on gay issues be identified as would the owner of the local Ford dealership if he were to write on the issue of Fords?

As we understand the nature of both the political and scientific debate, the demand is that gaydom be elevated from a pathological condition or mere sexual preference to the status of one like sever natural human divergences like hair or skin color.
The piece went on to talk about the "special interest of organized homosexuals" and how editors who are gay won't be able to separate their sexuality from their work.
Also: "Gaydom"? "Pathological condition"?
Someone should ask Pence what his thoughts on "gaydom" in the newsroom are now.
h/t RRW
[image via Gage Skidmore]
Have a tip we should know? [email protected]