People are Angry at Jennifer Lawrence for Being Insensitive to Hawaiian Culture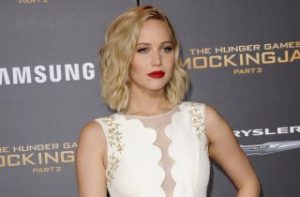 Jennifer Lawrence appeared on The Graham Norton show this week, and she retold the story of that time she scratched her butt on culturally sacred rocks in Hawaii and almost killed the sound guy on The Hunger Games when one of the rocks rolled away.
Lawrence said "All the Hawaiians were like, 'Oh my God, it's the curse!' And I'm in the corner, going, 'I'm your curse. I wedged it loose with my ass."
People on Twitter are not happy, and have been sounding off on Lawrence for being insensitive.
"Hey Hawaiians, I scratched my ass with your sacred stones, broke one, almost killed a man, and ? at your spirituality."-Jennifer Lawrence https://t.co/1ihjGuddVy

— LEFT✍? (@LeftSentThis) December 7, 2016
"Hey Hawaiians, I scratched my ass with your sacred stones, broke one, almost killed a man, and ? at your spirituality."-Jennifer Lawrence https://t.co/1ihjGuddVy

— LEFT✍? (@LeftSentThis) December 7, 2016
This is truly disgusting, even for someone like Jennifer Lawrence pic.twitter.com/fegNPkzy9P

— khol; pinned? (@flydazai) December 8, 2016
Jennifer Lawrence is so ugly. She knew the rocks are sacred to their culture & went out of her way to disrespect it. pic.twitter.com/PjiPldQgTa

— nañi (@pettyblackgirI) December 7, 2016
Please get everyone to rt this to get Jennifer Lawrence to apologize to the Hawaiian people. This is NOT okay. ++ pic.twitter.com/kjicMX65B6

— aurora? (@AlohaFromAurora) December 8, 2016
what quirky racist adventure will Jennifer Lawrence go on next?

— JuanPa (@jpbrammer) December 8, 2016
Jennifer Lawrence saying how she scratched her ass on sacred boulders you aren't supposed to sit on in Hawaii is white ppl in a nutshell

— Mowet (@xoxoxMinnie) December 8, 2016
Another reason Jennifer Lawrence is so annoying. Knowingly messes with something sacred to Hawiians. Then brags and makes a joke about it. https://t.co/EB6VFz0JzN

— Alexis Isabel (@lexi4prez) December 7, 2016
[image via Tinseltown / Shutterstock.com]
Have a tip we should know? tips@mediaite.com