Woman Who Launched #Pizzagate Says She's A 'Little Bit Insulted' By the 'Fake News' Label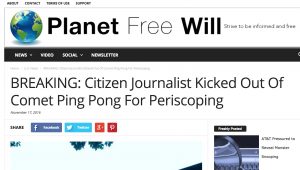 The woman who is largely responsible for pushing the false claim that a Democrat-led pedophilia ring is being run out of a D.C. pizzeria isn't taking any responsibility, even though a man seeking to "investigate" the claim discharged a firearm inside the family restaurant last week.
Stefanie MacWilliams is a woman who lives in Ontario and writes for "Planet Free Will," which is the site her article about the pizzeria appeared on, according to the Star. She wrote about one man's claims that Comet Ping Pong was housing a pedophilia ring and how he was kicked out of the establishment for livestreaming himself talking about his theories inside of it, then watched as her piece took off across Facebook and other social media.
She admitted that there is no "concrete evidence" that anything related to trafficking or molestation took place at the pizzeria. She was just sharing what one guy thought.
Recently, "Planet Free Will" was called out by the New York Times as a major source of fake news, and that's the thing that gets MacWilliams upset. Here's what the stay-at-home mom had to say:
 I was personally a little bit insulted. Fake news has become used as this ridiculous term . . . it's the new "conspiracy theorist." … What I've been calling for is the media to treat us fairly and to stop smearing us with the fake-news label.
She said she didn't believer or disbelieve anything about the so-called "#Pizzagate" theory. Like others, she thinks it is newsworthy.
Ultimately, of the incident that resulted in a man bringing a gun into a family restaurant, she said, "I really have no regrets and it's honestly really grown our audience."
[image: screengrab]
Have a tip we should know? tips@mediaite.com