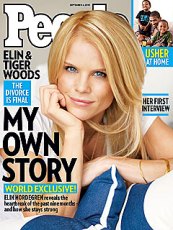 With her divorce finalized, Elin Nordegren, Tiger Woods' ex-wife, is speaking out for the first (and what she says may be the last) time.
People magazine landed the exclusive, but is saving most of the juicy details for readers of the print edition. However all the network morning shows got a preview, and filed detailed reports this morning.
Nordegren didn't address the cheating directly, although she said "I've been through hell." She also says she "never suspected" any of it, and was "blindsided" and "embarrassed." She did talk about what happened that Thanksgiving night:
There was never any violence inside or outside our home. The speculation that I would have used a golf club to hit him is just truly ridiculous. Tiger left the house that night, and after a while when he didn't return, I got worried and decided to look for him. That's when I found him in the car. I did everything I could to get him out of the locked car. To think anything else is absolutely wrong.
Interestingly, while Nordegren says she barely watched TV in the months following the incident, she did say "she found the parodies of herself on Saturday Night Live and South Park 'pretty hysterical,' even if 'totally untrue.'"
As for Woods himself, she says she's not yet ready to forgive him. In fact, the only positive comment she offered related to golf. "I wish him all the best in the future, as a person and as an athlete," she said. "I know he is going to go down as the best golfer that ever lived, and rightfully so. I feel privileged to have witnessed a part of his golfing career."
People hits newstands (and then will subsequently leave newstands quickly) on Friday. The magazine says this will be "her first – and last – interview, as she intends to remain a private person." Here's ABC's segment this morning:


—–
» Follow Steve Krakauer on Twitter
Have a tip we should know? tips@mediaite.com