'Poisonous Atmosphere' Reportedly Likely to Result in Premature End to ESPN's Mike & Mike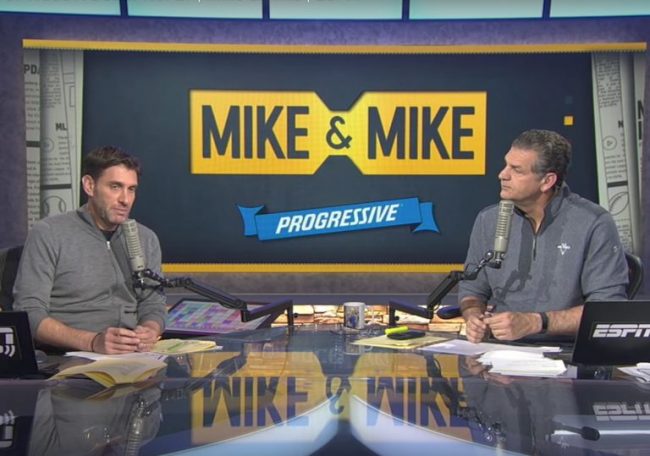 Last week, we posted about Jake Golic — the son of Mike Golic, one half of ESPN Radio's longtime morning drive dup Mike & Mike — blasting ESPN for their handling of the pending break-up of the pair. But it seems as though the discord has extended to the principals themselves — and it may result in the premature end of the show which has been on the air since 2000.
According to a report from Sports Illustrated, several unnamed ESPN staffers believe that Golic and his partner, Mike Greenberg, will be unable to stay together much longer due to escalating off-air tension.
"They are marvelous actors on set," the staffer said. "But they barely even make eye contact with each other these days."
Another unnamed longtime ESPN employee added.
"It's really a poisonous atmosphere right now."
SI reports that the dispute stems from the show's aborted move to New York City from its current home in Bristol, CT in 2015. Shortly after those plans were scrapped, ESPN offered Greenberg the opportunity to host a solo show to compete with Golic's at a reported salary far greater than what Golic is set to make.
The two addressed their breakup for the first time last week in a visibly frosty two-minute segment where they hardly even looked at each other.
An ESPN spokesperson told SI that Mike & Mike "will continue into the fall." But if the SI report is on the mark, it's likely that there will be lots of guest hosts between now and then.
[image via screengrab]
——
Follow Joe DePaolo (@joe_depaolo) on Twitter
Have a tip we should know? tips@mediaite.com
Joe DePaolo - Senior Editor