Police Are Investigating Media Breaching Orlando Shooter's Home 'Like a Burglary'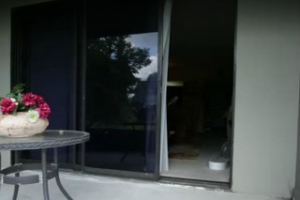 Media personnel who are being described as "foreign reporters" allegedly broke into the home of the Orlando shooter some time yesterday morning, according to the Palm Beach Post.
This mirrors the highly controversial incident that occurred when reporters infiltrated the home of the San Bernardino shooters, as well. Unlike that instance of poor decision making by the media, it doesn't appear that any truly personal details were broadcasted, although there was a small child living in the residence in Florida and the possessions of the child were undoubtedly shown.
While a Palm Beach Post reporter on the scene was careful to maintain that she had not been inside the house, she and her camera operator did zoom in to see through the windows. That video appeared in their original article earlier, but during the time that this post was being written, appears to have been removed. If it is reposted, it will be embedded here. (The video, which I saw, zoomed in on unblurred photos of the child on the wall through the open back door of the condo. If I had to guess, I would say that is why it was removed, the photos will be altered, and the video will be reposted.)
Fort Pierce police officers said that they arrived after Monday morning to see damage on the back door to the condo, which was open.
"We don't know who did it, " said spokesperson Ed Cunningham. "We are handling it like a burglary investigation."
[image via screengrab]
For more from Lindsey, follow her on Twitter or Facebook.
Have a tip we should know? tips@mediaite.com