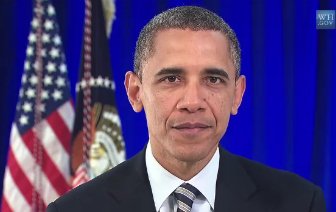 In honor of Queen Elizabeth II's Diamond Jubilee celebration on Tuesday, President Barack Obama offered a video congratulations to the British people for the historic occasion which marks the queen's 60 consecutive years on the throne.
"Your Majesty, on the historic occasion of your Diamond Jubilee," the president began. "Michelle and I send you, and all the British people, and members of the Commonwealth, the heartfelt congratulations of the American people."
"In war and in peace, in times of plenty and in times of hardship, the United States and the United Kingdom have shared a special relationship. We've stood tall and strong. And together we've faced some of the greatest challenges this world has known," the president continued.
Queen Elizabeth II assumed the throne in February 1952 after her father, King George VI, passed away from a coronary thrombosis.
"While many presidents and prime ministers have come and gone, Your Majesty's reign has endured. As I said last year at Buckingham Palace, that makes Your Majesty both a living witness to the power of our alliance and a chief source of its resilience. … Your Majesty has set an example of resolve that will be long celebrated. … It is gratifying to know that the bonds between our nations remain indispensable."
"In honor of your 60 extraordinary years on the throne, communities across the Commonwealth have lit jubilee beacons. May the light of Your Majesty's crown continue to reign supreme for many years to come," the president concluded.
Check out the congratulatory message below, via the White House:
Have a tip we should know? tips@mediaite.com