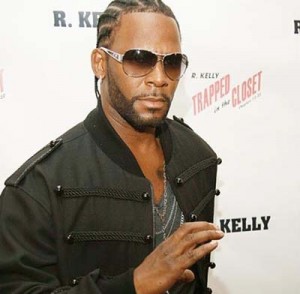 In an interview published in GQ Wednesday, Trapped in the Closet progenitor and R&B icon R. Kelly came to Bill Cosby's defense, suggesting that no accuser, nor any justice system maintained by all-too-fallible men and women, could convince him of Cosby's guilt. Only God can do that.
Describing his role as a father, Kelly said, "[W]hen my kids were born, I was Bill Cosby in the house. You know, the good one." He clarified that the "good one" referred to "how we saw Bill Cosby when we were coming up," meaning the comedian's folksy, paternal persona, which crumbled last year after some four dozen women came public with accusations of rape and sexual assault.
Kelly explained that he found it "strange" that several women were accusing Cosby of acts that allegedly happened many years — in some cases, decades — ago. He elaborated:
It's strange. Strange is strange. I can't explain strange. That's why strange is strange. Because it's something we can't explain.
The vast majority of the alleged assaults are past the statute of limitations — but GQ's Chris Heath persisted, asking Kelly if his opinion of Cosby would change should the accusations prove to be true — regardless of how much time had passed. Kelly responded:
If God showed me that they were telling the truth, I would say that's wrong. I don't care if it was a zillion years ago. But God would have to do that, because God is the only one can show me that. No man can tell me that. No woman can tell me that. And when you wait 70 years, 50 years, 40 years, to say something that simple, it's strange. You know why I say that is because it happened to me, and it wasn't true.
Kelly is likely referring to the fact that he was acquitted on charges of child pornography in 2008.
[h/t GQ]
[image via Wikicommons]
Have a tip we should know? tips@mediaite.com