Rachel Maddow Discusses Carl Paladino's History Of Racist And Pornographic Emails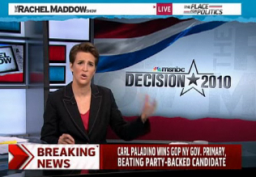 So apparently his last ditch, bottom of the barrel effort to gin up support by capitalizing on the Lower Manhattan mosque furor did not help Rick Lazio in his bid to win the Republican primary for Governor last night. In one of the two major upsets of the night Lazio was defeated by Carl Paladino, a Buffalo multimillionaire. Paladino, a Tea Party candidate won in a landslide and dealt, in the words of the NYT, what could be a "potentially destabilizing blow for New York Republicans." Also unclear is whether the New York Republicans just jumped out of the frying pan and into the Tea Party fire. From the Times:
It put at the top of the party's ticket a volatile newcomer who has forwarded e-mails to friends containing racist jokes and pornographic images, espoused turning prisons into dormitories where welfare recipients could be given classes on hygiene, and defended an ally's comparison of the Assembly speaker, Sheldon Silver, who is Jewish, to "an Antichrist or a Hitler."
Happy days. Last night Rachel Maddow enumerated Paladino's various racist and pornographic gaffes including photoshopped images of President Obama and the First Lady "dressed" for a White House ball, and an email titled 'proof the Irish discovered Africa' with an attached video of monkeys doing a jig. Other emails Maddow couldn't show because they involved hardcore porn and pictures of people having sex with animals. There's more, but you get the picture. Unlike Delaware winner Christine O'Donnell, the GOP has signaled that they intend to give Paladino their full support. Clip below.
Have a tip we should know? tips@mediaite.com