Ravens Coach: 'I Did Not Recommend Cutting Ray Rice' After Seeing First Video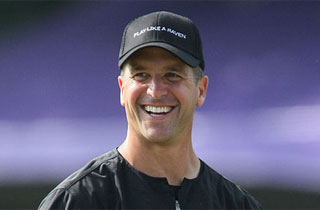 The Baltimore Ravens held a press conference today in response to a damning report from ESPN's Outside the Lines alleging that the Ravens owners had engaged in an extensive attempt to cover up Ray Rice's assault of his then-fiancée, and mitigate his punishment, both from the NFL and from Atlantic County law enforcement.
Among their contentions: Ravens management didn't view the infamous elevator video, Rice had lied to them about what had transpired in the elevator, and, crucially, that head coach John Harbaugh didn't recommend that Rice be cut from the team after he'd viewed the first video of Rice dragging the unconscious Janay Rice out of the elevator.
"I did not recommend cutting Ray Rice from the team after seeing the first videotape," he said in a statement. "I was very disturbed by that tape, and I told people that the facts should determine the consequences."
And again, according to Harbaugh, Rice had "never told me that he punched her. In June, when I spoke to ESPN The Magazine, it was still my understanding that Ray had not punched her and was acting defensively."
The ESPN story alleged that not only had Harbaugh seen the first elevator video, he was "horrified" at the footage:
Although the grainy video did not show what had happened behind the elevator's doors, the images horrified Ravens coach John Harbaugh, according to four sources inside and outside the organization. The Super Bowl-winning coach urged his bosses to release Rice immediately, especially if the team had evidence Rice had thrown a punch. That opinion was shared by George Kokinis, the Baltimore director of player personnel, according to a fifth source outside the organization but familiar with the team's thinking.

But Harbaugh's recommendation to cut the six-year veteran running back was quickly rejected by Ravens management: owner Bisciotti, team president Cass and GM Newsome.
[TMZ]
[Image via Keith Allison/Wikimedia Commons]
—
>> Follow Tina Nguyen (@Tina_Nguyen) on Twitter
Have a tip we should know? tips@mediaite.com