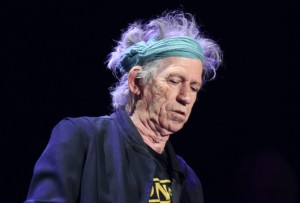 Back in the late 1980s, the Rolling Stones called off their hiatus and did a massive tour, netting about $100 million. Not bad! To cap it off, they wanted to do a pay-per-view show at a large venue, so their manager, Michael Cohl, thought of Donald Trump and his essential dictatorship in Atlantic City.
The problem was that no one in the Stones wanted anything to do with Trump, even in 1989.
As Cohl told Pollstar last year:
And I opened my big mouth in the meeting with The Rolling Stones where they go, "This is all great, but we're not going to be affiliated with Donald Trump. At all. Screw you." And I go, "I will control Donald Trump! Don't you worry!"
They set up a contract that barred Trump from attending the concert or promoting it at all. Trump is all about publicity and always has been, so of course he didn't actually stick to the script, or lack thereof. When the big night arrived, they found Trump hosting a press conference. Cohl again:
I give him the [come here gesture]. "Come on, Donald, what are you doing? A) You promised us you wouldn't even be here and, B) you promised you would never do this." He says, "But they begged me to go up, Michael! They begged me to go up!" I say, "Stop it. Stop it. This could be crazy. Do what you said you would. Don't make a liar of yourself."
After asking him not to continue speaking to the press, Cohl walked away and Trump got back on his pulpit to address the reporters. Twice. After the third time Keith Richards pulled out a knife and prepared to go to the press room for a confrontation, so Cohl threatened to cancel the entire pay-per-view performance and told Trump to leave, prompting the future presidential candidate to start screaming.
Finally, Cohl, in his own words, one last time:
And I notice the three shtarkers he's with, in trench coats, two of them are putting on gloves and the other one is putting on brass knuckles. I go on the walkie-talkie and I call for Jim Callahan, who was head of our security, and I go, "Jim, I think I'm in a bit of trouble." And he says, "Just turn around."

I turn around. He's got 40 of the crew with tire irons and hockey sticks and screwdrivers.

"And now, are you gonna go, Donald?"

And that was the night I fired Donald Trump.
That isn't the first time Trump has faced off with a musical artist who was none too pleased to be associated with him, either.
[image via screengrab]
For more from Lindsey, follow her on Twitter.
Have a tip we should know? tips@mediaite.com