'Rent Is Too Damn High' Guy Is Fighting Eviction Because His Rent Is Too Damn Low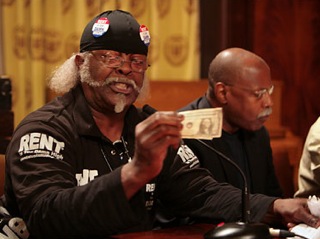 Life imitating art: 2012 Presidential candidate and media sensation Jimmy McMillan, known for having run a New York gubernatorial campaign for the Rent is Too Damn High Party, is now facing eviction from his Manhattan apartment in what he calls a naked money-grab to undo rent control laws over his apartment. In a New York Post exclusive, McMillan argues that claims he does not actually live in the apartment are patently false, and he will do anything to fight his eviction.
McMillan received an eviction notice from his landlord claiming that he does not actually live in the apartment. As the Post explains, McMillan has said that he lives in Brooklyn publicly, in an apartment he does not pay rent for. McMillan assures the paper, however, that his name is on the lease for this apartment as well, and that the Brooklyn apartment is not a home, but the headquarters for the Rent is Too Damn High Party. McMillan is predictably feisty about this new development:
Jimmy McMillan says he pays $872.96 for a rent-controlled ground-floor apartment on St. Marks Place in the East Village — which he's had since the late-1970s, when the rent was around $275. "I've been here since 1977, and they want more money!" McMillan says. "It's about 'My Rent is Too Damn Low.'" […]

When he's not busy planning his 2012 run for the White House, McMillan says he's drawing on years of expertise to advise his lawyer on how to handle the eviction case. "I told him to file a counter-claim for $70,000," McMillan said. […]

"It's a trick they all play. I'm not going to let them get away with it. You don't tell an American how to live," McMillan said.
No comment yet from the other 2012 Presidential candidates, and McMillan did not elaborate on how the added incentive to move into the White House (where the rent is so low, it's nonexistent!) would affect his campaign— other than, of course, to give him something more to relate to with constituents.
[Photo via NYT]
Have a tip we should know? tips@mediaite.com