Rep. Scott Rigell Salutes Christmas and Hanukkah In Awesome Video Mocking House Rules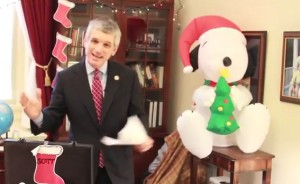 Even the most hardcore partisan can probably enjoy this video put out by Rep. Scott Rigell (R-Va.). While it presents a core message of "Merry Christmas and Happy Hanukkah," it is — at its essence — a bit of a mockery of the sometimes-onerous rules set forth by politicians. And pretty much everyone can appreciate the flouting of annoyingly tedious guidelines, especially when its done in the direction of a group that about 90% of Americans disapprove of (although, to be fair, the rules he's railing against apply only to mailings. But still.).
"You may have seen, on Fox News, the guidance that members of Congress have received regarding what we can and, really, what we can't say about the holidays," Rep. Rigell says, opening up a briefcase bearing a paper stocking with his name. "And it's really deflated, I think, the whole spirit of the season." In the background, an inflatable Snoopy deflates.
As he continues his speech, two aides walk behind with "Merry Christmas" and "Happy Hanukkah" written on posterboard. Rigell eventually makes his way to his framed copies of the Constitution.
"It's good and proper and right…and Constitutional!…for me to look into the camera and say to all of my friends and family across the Second District and across the great Commonwealth of Virginia, and the country–Merry Christmas, and Happy Hanukkah, and wonderful and sincere holiday greetings from all of us in our office to each of you."
Enjoy the video below, courtesy of Rep. Rigell's YouTube channel:
Have a tip we should know? tips@mediaite.com