Report: Anthony Weiner's New Sexting Gal Pal Is an Obama-Bashing Trump Fan, NRA Supporter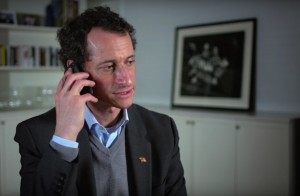 While his wife Huma Abedin works tirelessly to ensure that her boss Hillary Clinton becomes the next President of the United States, Anthony Weiner has been keeping himself busy back in Manhattan.
Aside from the release of a wild and facepalm-inducing eponymous documentary and a recent unearthed comparison to a mongoose, the former New York Congressman has still been heavy into the digital sexting game — the same one that seriously derailed his career years ago. But unlike Sydney Leathers, the new object of Weiner's affection seems to have unabashed political views in direction contrast with his own.
According to the New York Post, the unnamed "40-something divorcee":
…is his polar opposite politically: a self-avowed supporter of Donald Trump and the National Rifle Association who's used Twitter to bash both President Obama and Clinton.
The newest scandal involves the woman — who Page Six refers to as a "busty brunette" — and a series of messages from 2015. One of those messages contains an image that the former Mayoral candidate allegedly sent his sexting sis that included his son in the background, as pointed out by the Post this morning:
EXCLUSIVE: Anthony Weiner sexted a busty brunette while his son was in bed with him https://t.co/f2C7tn1yoy pic.twitter.com/JNmerTREKD

— New York Post (@nypost) August 29, 2016
The Post details the following exchange:
"Someone just climbed into my bed," Weiner wrote.

"Really?" she responded.

Weiner then hit "send" on the cringe-inducing image, which shows a bulge in his white, Jockey-brand boxer briefs and his son cuddled up to his left, wrapped in a light-green blanket.

"You do realize you can see you[r] Weiner in that pic??" the woman wrote.

Moments after forwarding the photo, Weiner freaked out over the possibility he had accidentally posted it publicly — just as he did during the infamous episode that forced him to resign from Congress in 2011.

"Ooooooh . . . I was scared. For half a second I thought I posted something. Stop looking at my crotch," Weiner wrote back.
The woman confirmed to the Post that despite the lengthy back-and-forth, the two never met in person, and their digital tryst took place over several months in 2015. In 2011, the former Congressman entered therapy for his actions, and sat down with his wife for a 2012 profile for People Magazine. His improvement in the public eye actually lead to a sizable shot at becoming New York City's next mayor in 2013 — a journey chronicled through the documentary Weiner — before a new windfall of "Danger"-ous controversy derailed his ambitions.
UPDATE — 9:36 a.m. EST: It appears as if the former New York Congressman has deleted his Twitter account altogether after the newest wave of controversy.
—
[image via Weiner/IFC Films]
Have a tip we should know? tips@mediaite.com