Report: Lewandowski's Non-Disclosure Agreement with Trump Cost Him $1.2 Million Book Deal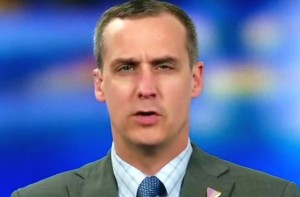 That non-disclosure agreement former Trump campaign manager Corey Lewandoswki signed has cost him a $1.2 million book deal, according to Politico.
Lewandowski, who was fired from the Trump campaign last week and almost immediately (and controversially) hired as a CNN contributor, reportedly received the seven-figure offer from HarperCollins to author a book about his time on the campaign trail. Discussions began in May and were scuttled when Lewandowski announced he had no plans to write a book. Politico reports that he re-commenced talks last week shortly after his termination from the Trump campaign.
Politico's Kenneth P. Vogel and Hadas Gold write:
One source familiar with the talks said that HarperCollins was concerned that Lewandowski's firing might diminish the value of the book because he would not be able to provide the same level of insight into the campaign all the way through to Election Day.

But the publishing house nonetheless continued to entertain talks. The sources said HarperCollins asked to review a copy of the non-disclosure agreement Lewandowski signed as a pre-condition of his employment with Trump in order to assess whether the candidate or his campaign would be able to exercise control over anything in the book.

Lewandowski declined to do so, ultimately leading HarperCollins to decide not to renew its initial offer, according to the sources.
Lewandowski has been steadfast in his support for Trump and coy about the precise nature of his non-disclosure agreement. When asked by NBC News last week about the agreement, Lewandowski said:
I can tell you that my situation with Mr. Trump is unique to my situation with Mr. Trump and I can't tell you about what other people do, but I can tell you this: I will do  everything I can to make sure Donald Trump is elected the next president of the United States because our country is in too much trouble if he isn't.
UPDATE — 10:50 A.M. EST: Lewandowski responded to the report, emphatically denying it and taking a swipe at Politico.
Once again @politico has their facts wrong and attributed to unnamed sources. Guess journalistic integrity doesn't rank as a priority there.

— Corey Lewandowski (@CLewandowski_) June 29, 2016
Have a tip we should know? [email protected]