REPORT: Trump's Labor Secretary's Ex-Wife Alleged Abuse in 'Oprah' Interview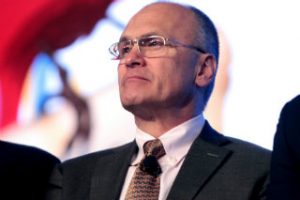 In recent weeks, Andrew Puzder, the CEO of CKE Restaurants and President Elect Donald Trump's nominee for labor secretary, has been denying decades-old allegations that he beat his ex-wife, Lisa Fierstein. Last month, the Riverfront Times covered the allegations (which they first reported in 1989) but Fierstein has since retracted the allegations, saying that her lawyer told her to make them up to help her in their divorce. However, on Wednesday, Politico reported that there's now strong reason to believe there may be more to the allegations: Fierstein appeared on "The Oprah Winfrey Show" as an anonymous domestic abuse victim, wearing a wig and glasses while going by the name "Ann."
While Fierstein didn't name Puzder as her abuser, a spokesman for both of them confirmed that it was her on "Oprah," while a friend and former employee of Fierstein confirmed that she was talking about Puzder on the show. Winfrey's Harpo Productions told Politico that it was unable to locate its tape of the episode, though. Meanwhile, Liz Johnson of the Trump transition team chimed in with the following statement:
This is part of a desperate smear campaign to distract from President-elect Trump's agenda of creating jobs and opportunities for American workers. As both Mr. Puzder and Ms. Fierstein have made clear, these were false allegations that were made 30 years ago, and in fact, they are good friends.
Also complicating Fierstein's claim that she made up the allegations to aid her in the divorce is that she sued Puzder for assaulting her after the divorce was completed, with a judge dismissing the case because it was resolved in the divorce agreement. She also alleged abuse before filing for divorce and filed for a protective order against Puzder.
[Photo: Gage Skidmore at Wikimedia Commons]
Have a tip we should know? tips@mediaite.com