Restaurant Manager Claims LSU Football Players Ate 4,000 Wings at Team Dinner This Week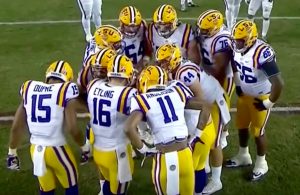 In advance of their appearance this week in the Buffalo Wild Wings Citrus Bowl (And let's take a second to salute the brand syngergy there, shall we? Because wings and citrus make a wonderful, terrific, not at all gag-inducingly terrible food pairing.), the LSU football team stopped by a Buffalo Wild Wings in Orlando for a team dinner. And they did some damage — to the tune of thousands, and thousands of wings.
Ross Dellinger, the LSU beat writer for The Advocate in Baton Rouge, reports that a manager at the restaurant claims the players downed 4,000 wings total at the dinner.
#LSU football players consumed 4,000 wings tonight, a Buffalo Wild Wings manager says.

— Ross Dellenger (@RossDellenger) December 28, 2016
Four thousand wings? Is it possible the team could've gone through 4,000 wings in one meal? We say yes, with a few disclaimers. LSU's roster lists 117 players. So if it were limited to just the players, you're talking about approximately 34 per man. That could be stretching it. Sure, your offensive and defensive lineman could run up the score a bit. But that still seems like a high number.
Though Dellinger's tweet, and other accounts of the event, specifically say the players ate that many, it's likely the coaches and other support staff were accounted for in that number. Head coach Ed Orgeron apparently ate his share.
How many wings did Ed Orgeron eat?

"A lot. I like wings."#LSU pic.twitter.com/22FoMJpnOQ

— Ross Dellenger (@RossDellenger) December 28, 2016
And here's the key: The wings were already out. The players could come and go as they saw fit. No waiting on the servers to bring them out from the kitchen. Further, it's likely that many plates went unfinished.
#LSU football has an entire Buffalo Wild Wings restaurant reserved. pic.twitter.com/LhrgxUpKLW

— Ross Dellenger (@RossDellenger) December 28, 2016
Here's hoping the defensive line and linebackers took it easy, though. LSU plays Louisville in the Citrus Bowl, meaning the defenders will have to chase around lightning fast Heisman Trophy-winning quarterback Lamar Jackson. If Jackson runs past the defenders like they're standing still, we'll know why.
[image via screengrab]
–
Follow Joe DePaolo (@joe_depaolo) on Twitter
Have a tip we should know? tips@mediaite.com
Joe DePaolo - Senior Editor