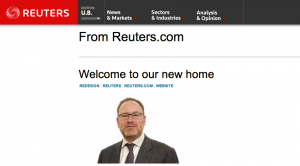 In the announcement of their new web redesign, Reuters refers to itself as a "news powerhouse" and it's hard to disagree once you get to the figures: "2,800 journalists in 190 different bureaus," at time when even the Washington Post is becoming a localized paper. "News has been in our blood for more than a century and a half," the release continues, "but we've always been restlessly innovating and always looking to the future."
But will anyone ever check Reuters.com for news? It remains unclear! But that's okay. Most of the big money is in financial information (right Bloomberg?) and that's no surprise. And when it comes to news, a wire service is never exactly an online go-to. But if you need Reuters — as a member of their "elite audience of business professionals" — maybe you should adjust your bookmarks now.
We want this to be the world's best website covering business and finance news, analysis, and opinion. Full stop.

We want you to be able to come for a quick glance at the top headlines, or a longer deep dive into a topic that's important to you. We want you to scan the output of the 2,800 men and women or hone in on a favorite writer or photographer.

This site is for you; we want it to be your ticket to a wealth of news, information, and analysis presented in a cutting-edge format, including text, video, pictures, graphics, user interaction, and personalization features (try the new toolbar at the bottom of every page).
You can read the rest of the announcement here or make your way around the quite visually pleasing and easily accesible new site by clicking here.
(h/t Soup)
Have a tip we should know? tips@mediaite.com