When President Barack Obama was asked why he had decided not to visit the border during his trip to Texas this week, he answered, "This isn't theater. This is a problem. I'm not interested in photo ops, I'm interested in solving a problem." Apparently, Texas Governor Rick Perry feels differently.
Perry toured the border Thursday, joining the Texas Department of Public Safety law enforcement officials for a boat ride down the Rio Grande. His office released this photo to the press: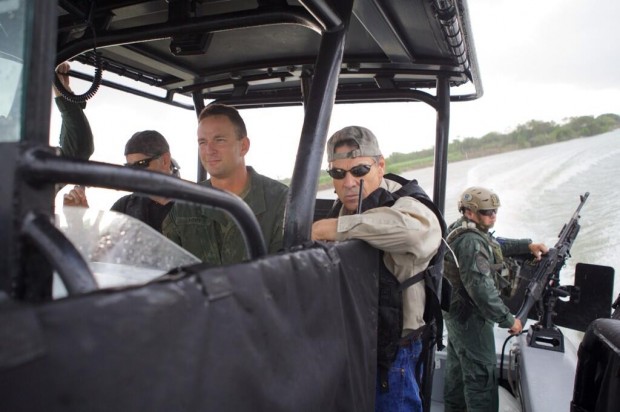 There is at least some irony in the fact that it was Perry who criticized Obama for wanting a photo op with him when the president arrived in Dallas on Wednesday. The governor wrote to Obama, saying he appreciated the offer, "but a quick handshake on the tarmac will not allow for a thoughtful discussion regarding the humanitarian and national security crises enveloping the Rio Grande Valley in South Texas."
After the president agreed to a longer one-on-one sit-down, Perry relented and met Obama on the tarmac for that handshake.
President Obama has received harsh criticism from both the left and the right for his decision to avoid personally visiting the border. But if he did make the trip down there and photos like the one above emerged, you have to imagine that his critics would quickly shift to criticizing the "photo op" as being devoid of substance.
After all, remember what happened when he decided to shoot a gun?
[h/t TheBlaze]
[Photo via Rick Perry]
— —
>> Follow Matt Wilstein (@TheMattWilstein) on Twitter
Have a tip we should know? tips@mediaite.com