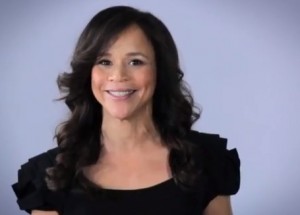 You still wouldn't be able to believe a thing that came out of his lips? Hey-ohhh!
Seriously, though, America's Around-The-Way Girl Rosie Perez asked the titular out-of-context question as part of a new ad that busts Republican presidential candidate Mitt Romney over his repeated assertion that he might just be able to get ahead if only his father had been born in Mexico to Mexican parents, instead of the lousy White American ones who sired him. Extending the premise, Perez says, in the ad, ""What if you had a vagina? If you were a gay Latina this election would be in the bag for you!"
"Unfortunately for you, Mitt," she continues, "you were cursed. Growing up as the son of a wealthy governor and auto executive. And when your father paid your way through private school, Harvard, Harvard Law, and bought you your first house, I just can't imagine how difficult that must have been for you."
"But the truth is, the reason Latinos aren't voting for you, is that your policies suck," she concludes. "Being Latino wouldn't win the election for you. But saying, jokingly, that you wish you were, might actually lose it for you."
That last sentence might seem like an exaggeration, but if President Obama manages to win reelection, his 30-point-plus lead over Romney among Hispanic voters will be a major factor. While that lead has remained consistent, and even expanded over the course of time, recent polls show Romney gaining ground with Hispanic voters in the important battleground state of Florida, where the President now leads Romney by a slimmer-than-the-national-average 51-44 percent.
The Rosie Perez ad is part of a new partnership between progressive superPAC American Bridge and the people who brought you that Samuel L. Jackson "Wake The F**k Up!" video, the Jewish Council for Education and Research (JCER). According to the groups' press release, future videos will feature Sarah Silverman, Lizz Winstead, W. Kamau Bell, Elon James White, and Jay Smooth, and will be available at www.actually.org. Here's the full text of that press release:
Actually, the Truth Matters, Mitt…But That Doesn't Mean it Can't Be Funny

JCER and American Bridge team up to release video series fact-checking the Romney campaign and starring Rosie Perez, W. Kamau Bell, and other comedians and entertainers

NEW YORK ­– Following up on the success of their "Wake the F*** Up" video with Samuel L. Jackson, the Jewish Council for Education and Research (JCER), in partnership with American Bridge 21st Century, announced today a new video series, "Actually…." Written by and starring well known comedians and entertainers, the online video series will give Americans a funny, accessible–and truthful–take on Mitt Romney's most outrageous lies and most out-of-touch statements.

A preview of the series is online today at www.actually.org and the first video will premier soon, starring Rosie Perez and her take on Romney's claim that he'd have a better chance at getting elected if he was Latino.

Other videos will feature Sarah Silverman & Lizz Winstead, W. Kamau Bell, Elon James White, and Jay Smooth, and will tackle Romney statements on the environment, Medicaid, and other topics. The collaboration presents an opportunity to combine the candidate tracking and opposition research expertise of American Bridge with JCER's successful record in leveraging both humor and celebrity star power to create appeals to voters grounded in the truths missing from Romney's candidacy.

"The Hebrew word emet means not only to be factual in our statements, it means we should avoid deceit and trickery," said JCER co-founder Mik Moore. "By this measure, Mitt Romney's campaign is failing badly. We knew there were many distortions that needed correcting, and we knew there were many talented artists in the entertainment community who wanted to help set the record straight."

"We know that opposition tracking footage and research-based fact checks aren't the sexiest things out there, so we embrace this opportunity to break through the clutter and find a way to get information directly to voters who may not have otherwise seen it," said Rodell Mollineau, president of American Bridge 21st Century. "With the 'Actually…' videos, voters will realize that Mitt's lies would be funny if they didn't pose such serious consequences for our country moving forward."

Videos will be posted every few days at www.actually.org, and will include a call to action for viewers to share them with friends and family members seeking reliable information about the Republican ticket.

The Jewish Council for Education and Research is a federal Super PAC committed to vigorous engagement in civic life. By embracing social media and crowdsourcing, it has proven effective at getting attention in today's saturated media market. The PAC's two most recent videos, "Let My People Vote" starring Sarah Silverman and "Wake the F*** Up" starring Samuel L. Jackson, have reached a combined 6.6 million people in just weeks. JCER also created the 2008 video "The Great Schlep" with Sarah Silverman, which is widely credited with boosting Obama's electoral results in Florida.

American Bridge 21st Century is a progressive organization committed to holding Republicans accountable for their words and actions through the use of opposition research, candidate tracking, and earned media communications.
Have a tip we should know? tips@mediaite.com