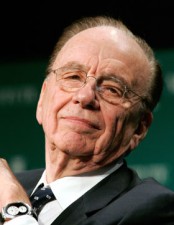 New Corp honcho Rupert Murdoch has been known to refer to those running the web as "plagiarists" and "parasites," threatening to remove all of his content from search engines like Google (especially if Bing is willing to pay up). Many wondered if he was bluffing, but now the process seems to have begun, with the Times Online blocking aggregation of its stories.
Aggregator NewsNow, via The Next Web, is reporting that they are being blocked from indexing Times Online stories:
As a consequence of this action — apparently the first change to the Times Online's blocking policy since May 2008 — two million visitors to NewsNow.co.uk every month will no longer find headlines and links to content on the Times Online site in their news search results.

According to Struan Bartlett, Managing Director and Chairman of NewsNow: "It is lamentable that News International has chosen to request we stop linking to their content and providing in-bound traffic and potential subscribers to the Times Online and right now it looks as though NewsNow has been singled out. We note that no other major search engine has been blocked by NI in this manner. NewsNow is not fundamentally different to other news search engines that are part of the Internet infrastructure, such as Google News and Yahoo. Why block us and not them?"

The blocking has been technically implemented via the robots.txt protocol, a convention for requesting search engines, web spiders and other web robots refrain from asking for pages from all or part of a website.
Whether this will be the first domino in a line of things to come remains to be seen — Google News is, of course, far more noteworthy than a "homegrown" UK aggregator — but it is certainly a move in the direction previously threatened by Murdoch and his companies. But if it does happen, expect a far larger outcry when Murdoch and crew start blocking sites that steer the internet conversation.
Have a tip we should know? tips@mediaite.com