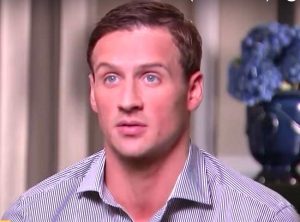 New York caught up with Ryan Lochte for his first magazine profile since his fabricated robbery claim in Rio during the Summer Olympics. In it, the embattled swimmer claims that he was under contractual obligation by one of his sponsors to appear single during the Games, even though he wasn't.
Lochte recently got engaged to model Kayla Rae Reid, who he has been dating since January. The swimmer told New York that a sponsor forced him to keep the relationship under wraps, although he declined to identify the company.
Another highlight from the New York feature was Lochte confusing Yom Kippur with Canadian Thanksgiving. Here's the anecdote in full, as chronicled by New York's Jessica Pressler.
Perhaps for obvious reasons, at the last minute, Lochte's publicist decides to come along. "Work is slow," she says. "It's Yom Kippur."

"What's that?" Lochte asks curiously.

"It's the Jewish Day of Atonement."

"Wasn't it their Thanksgiving two days ago?"

"That was Canadian Thanksgiving."

"Oh," says Lochte, shifting his hands in his pocket and pulling out his phone, which, as it turns out, has been butt-dialing people. "Ha!" he says. "My friend was just on the phone for like five minutes! Ha-ha-ha!"
Lochte has survived multiple eliminations thus far this season on Dancing With The Stars, and credits the show with helping him move past the Summer Olympics scandal.
"If I wasn't on this show, I don't know what I would have done," Lochte said. "This has really gotten me out of the dark hole."
Read the full profile here, via New York
[image via screengrab]
–
Follow Joe DePaolo (@joe_depaolo) on Twitter
Have a tip we should know? tips@mediaite.com
Joe DePaolo - Senior Editor